Risk Appetite Returning But Majors Lead Weekly Gains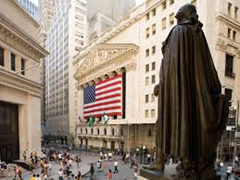 Microcap Market Report: February 10, 2014 – Despite a slack January jobs report, one that will be highlighted in a moment, U.S. stocks soared to end the week, bringing some much needed relief to suddenly skittish bulls. In the last two days of the just completed week, the S&P 500 soared 2.6%, the best two-day performance for the benchmark U.S. index since October.
For the week, all three major U.S. indices gained at least 0.5% with the S&P 500 adding 1.3% on Friday alone. Friday's rally helped U.S. stocks cap their first weekly gain in four. Thursday and Friday were the first consecutive days in which the S&P 500 gained at least one percent since the start of the year.
The return of risk appetite… which could prove to be fleeting, was not enough to lift the broader micro-cap complex for the week. The iShares Russell Microcap ETF (NYSE: IWC) suffered a weekly loss of nearly 2% while the Guggenheim Wilshire Micro-Cap ETF (NYSE: WMCR) was a tad better with a loss of 1.6%.
On the bright side… "A CFA Institute Global Market Sentiment Survey of members found they generally have a more positive view for 2014.
"The survey, released in December, found 71% of 6,561 members responding identified equities as the asset class likely to perform best in 2014, up from 50% in 2013." Source: Pensions & Investments
The Markets @ 2/7/2014

Index
Close
Weekly
% Change
YTD Change
YTD%
DJIA
15794.08
95.23
0.61%
-782.58
-4.72%
NASDAQ
4125.86
21.98
0.54%
-50.73
-1.21%
S&P 500
1797.02
14.43
0.81%
-51.34
-2.78%
NYSE Comp
10055.38
87.73
0.88%
-344.95
-3.32%
NYSE MKT
2299.34
11.79
0.52%
-126.86
-5.23%
RUS 2000
110.75
-1.41
-1.26%
-4.61
-4.00%
RUS MICRO
73.29
-1.43
-1.91%
-1.83
-2.44%
VANG INTL
50.16
0.39
0.78%
-1.82
-3.50%
CHINA INDEX
6808.46
2.92
0.04%
-246.37
-3.49%
VANG EMER MKTS
38.15
0.17
0.45%
-2.66
-6.52%
Market Report
It was another brisk week on the economic data front highlighted by the January jobs report delivered on Friday. The Labor Department said the U.S. economy added 113,000 new jobs last month, well below the 178,000 economists expected. The December number was revised higher by 1,000 to 75,000.
On Thursday, the Labor Department said first-time claims for jobless benefits fell to 331,000 last week from 351,000. The less volatile four-week moving average fell to 334,000. However, that positive reading will be reflected in the February jobs update.
On Tuesday, the Commerce Department said U.S. factory orders fell 1.5% last month. Economists expected a 2% decline. And on Monday, the Institute for Supply Management manufacturing index fell to 51.3 in January from 56.5 in December for the lowest reading since May. Economists expected a reading of 56. Readings above 50 indicate expansion. The Commerce Department said construction spending rose 0.1% in December, down from a 0.8% increase in November.
Economic data points say economy still recovering
It is fair to say that beyond the jobs report, the rest of the week's data points support the notion that the U.S. economy is still recovering and that bodes well for hopes of equities bouncing back from their lethargic start to the year.
CONTINUING…
Gold continued its upward movement… up $23.20 to close at $1,263.30.
Oil approaches $100 level… prices closed Friday at $99.88, +$2.39.
The US Dollar was off… -0.0080 for the week to close at 0.7335 euros.
Bonds prices soften slightly… The 10-year bond lost $0.05 to close at $100.64 and the 30-year bond lost $0.75 to close at $101.53.
The Bottom Line for Stocks
There is some potentially big news afoot in the micro-cap space and that is the ongoing resurgence of micro-cap gold and silver miners. The Market Vectors Junior Gold Miners ETF (NYSE: GDXJ) closed above a long-running downtrend on Friday, indicating the micro-cap gold miners have significant upside potential from here.
Beyond precious metal miners, micro-cap avenues to developed Europe should be considered as well because investors continue to allocate capital to the region even as emerging markets stocks flail. Closer to home, micro-cap financials look appealing on thought that 2014 could bring increased mergers and acquisitions activity among smaller banks.
Research and Editorial Staff
MicroCap MarketPlace
Mike Casson, Executive Editor