Good Economic News is Finally Good News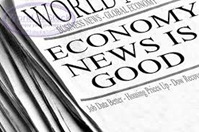 MicroCap Market Report – December 9, 2013 – Some positive economic data boosted stocks on Friday and that is an encouraging sign on at least two fronts. First, the data points helped U.S. stocks snap a surprising five-day skid. Second, for much of this year, good economic news has been met with more immediate results from stocks because of fears over Federal Reserve tapering.
That was not the case Friday as the S&P 500 rallied to its best one-day performance in a month. Still, that was not enough to keep the benchmark U.S. index and the Dow Jones Industrial Average from ending eight-week winning streaks. The Nasdaq Composite closed modestly up on the week.
Until Friday, small-caps had been unimpressive to start December and that was also hampering micro-caps. Despite a strong Friday showing, the iShares Russell Microcap ETF (NYSE: IWF) closed the week down by 1.2%. The Guggenheim Wilshire Micro-Cap ETF (NYSE:WMCR) was slightly worse with a weekly loss of 1.5%.
The Markets @ 12/6/2013

Index
Close
Weekly
% Change
YTD Change
YTD%
DJIA
16020.2
-66.21
-0.41%
2916.06
22.25%
NASDAQ
4062.52
2.63
0.06%
1043.01
34.54%
S&P 500
1785.03
-20.78
-1.15%
358.84
25.16%
NYSE Comp
10131.22
-52.01
-0.51%
1687.71
19.99%
NYSE MKT
2386.85
-0.3
-0.01%
31.19
1.32%
RUS 2000
112.48
-1.03
-0.91%
28.4
33.78%
RUS MICRO
72.99
-0.87
-1.18%
20.67
39.51%
VANG INTL
51.09
-0.85
-1.64%
4.79
10.35%
CHINA INDEX
6781.57
-4.52
-0.07%
2343.05
52.79%
EMERG MKTS
6826.4
-72.2
-1.05%
-213.57
-3.03%
Market Report
As we just noted, it was some strong economic data that kept the week from being worse than it ended up being.
On Friday, the Labor Department said U.S. employers added 203,000 new jobs last month. Job gains for September and October were revised to show 8,000 more jobs created than previously reported, according Reuters.
Consumer Sentiment improves
The University of Michigan Consumer Sentiment survey rose to 82.5 this month from 75.1 last month and 73.2 in October. The Commerce Department said personal incomes fell 0.1% in October climbing 0.5% in September. Disposable personal income fell 0.2%.
On Thursday, initial claims for jobless benefits fell by 10,000 to 316,000 last week. The less volatile four-week moving average fell by 7,500 to 331,750. The Commerce Department said the U.S. economy grew 3.6% in third quarter, the fastest growth clip since the first quarter of 2012. Economists expected a reading of 3.6%.
Good economic news is finally good news
The jobs data in particular was quite encouraging, but more so was the fact that stocks reacted the "right way" on Friday. Good economic news was finally good news, which indicates that…
"Market participants are either comfortable with the fact that the Fed could taper as soon as this month or comfortable with the notion that tapering is coming at some point and nothing will change that fact."
NASDAQ is the only green spot on our chart
All other indexes we follow are showing red. As we noted last month, we still have some nice looking YTD gains with China and US micro-caps leading our indexes.
CONTINUING…
Gold was off last week… -$20.30 to close at $1,230.30.
Oil was up this past week… prices closed Friday at $97.65, +$4.93.
The US Dollar was off a bit… -$0.0062 for the week to close at 0.7295 euros.
Bonds lost some too… the 10-year bond was down $1.15 to close at $98.88 and the 30-year bond lost $1.83 to close at $97.06.
The Bottom Line for Stocks
Even with the good data points, stocks have gotten off to a slow start this month and that is somewhat discouraging because December is often one of the best months in which to be long equities.
December is also a pivotal month for small and micro-caps and on that front, the performance of consumer discretionary and retail micro-caps has, thus far this month, been problematic. There is a compelling reason to consider the aforementioned IWC. That being there are simply not enough micro-caps that qualify for entry into the ETF at the moment, which could lead a scarcity premium.
At the sector level, health care looks strong, but micro-cap precious metals miners are a sector to avoid as gold and silver continue their bearish ways.
Research and Editorial Staff
MicroCap MarketPlace
Mike Casson, Executive Editor