Citizens First (NASDAQ: CZFC): A Better Way to Bet on Bank Stocks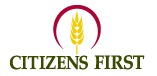 Following the global financial crisis, it is not unreasonable to say most investors know a little something about major bank stocks such as Citigroup (NYSE: C) and Dow component J.P. Morgan Chase (NYSE: JPM), among scores of others. Although many of the marquee money center banks in the U.S. have seen impressive stock price bounces over the past 12 to 18 months, a lot of investors still remember negative connotations such as "too big to fail" and "mortgage meltdown."
Rightfully so, but that does not change the fact that it is hard to go a day without hearing some news about big banks. That is just the lay of the land when "financial services" is the second-largest sector weight in the S&P 500.
This microcap bank is a shining star
To be sure, there are plenty of opportunities for conservative micro-cap investors in the banking sector,
further solidifying the notion that bigger isn't always better.
In fact, small can work quite well "thank you very much." That has been the case with Citizens First (NASDAQ: CZFC).
Based in beautiful Bowling Green, KY, far away from Wall Street in every sense, Citizens First is not reinventing the banking wheel and that is a good thing. Citizens First is engaged in the basics of the banking business: Taking deposits and making loans.
Bowling Green is the third-most populous city in the state of Kentucky after Louisville and Lexington, with a population of 58,894 as of 2011. It is the county seat of Warren County and the principal city of the Metropolitan Statistical Area with an estimated 2011 population of 127,607. Corvette owners should have a warm place in their heart for Bowling Green because the General Motors assembly plant has been building all of Chevrolet's Corvettes there since 1981.
As a dominant institution in the South Central Kentucky area, there are no exotic, opaque goings on at Citizens First such as high-frequency trading (HFT), credit default swaps (CDS) or other Wall Street-esque acronyms.
36% gain validates business focus
That has not hurt the stock price. Actually, it is the other way around. As investors have sought ways of staying invested in the banking sector without the headline risk the group's most prominent names are prone to provide, they have embraced conservative fare such as Citizens First.
The bank's focus is on making commercial loans primarily to small and medium-sized businesses. They also make select commercial real estate loans plus residential real estate mortgage loans for borrowers to purchase and refinance one-to-four family properties. Another speciality is home equity and construction loans; personal loans and lines of credit to consumers for various purposes, such as the purchase of automobiles, boats, and other recreational vehicles, as well as for home improvements and personal investments.
The strategy has worked. For the last 12 months, shares of Citizens First are higher by over 36%.
And the increase in volume further validates investor interest. Now, don't let this impressive gain scare you away…this one is destined to move much higher.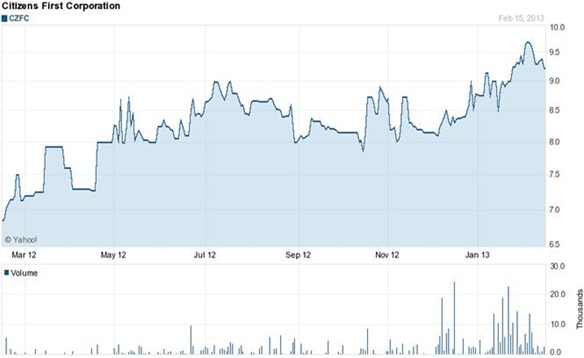 Source: Yahoo! Finance
Main Street Kentucky beats the pants off Wall Street New York
That is a better performance than J.P. Morgan Chase. That's almost double the returns offered by Wells-Fargo (NYSE: WFC) and better than 10 times the gains of super-regional BB&T (NYSE: BBT). It's also important to note, Citizens First is in sound financial shape. Yes, the bank did take some TARP funds during the financial crisis, but so did every other bank mentioned here.
Citizens First is paying back its TARP funds
Citizens First recently announced it repurchased an additional 94 shares of the original 250 shares of the Series A Fixed Rate Cumulate Perpetual Preferred Stock it issued to the U.S. Treasury as part of TARP. The bank previously repurchased 63 shares in February 2011. The most recent purchase will result in an annual reduction of approximately $165,000, the company said in a recent statement. That means the bank will have an extra $165,000 per year with which to do something more productive than shovel money to Uncle Sam.
A key investment consideration for the micro-cap bank sector
Another reason to consider Citizens First and micro-cap banks in general, is because there are a fair number of them trading well below tangible book value (TBV). TBV looks at what common shareholders can expect to receive if all of the bank's assets are liquidated at their book values, according to Investopedia.
What is important about tangible book value with regard to banks is that this metric is one of the most frequently used valuation tools for potential acquirers. Citizens First's tangible book value was $11.06 per share toward the end of 2012, according to research firm McAdams, Wright, Ragen, experts in the micro-cap banking sector.
Trading at a discount to book, CZFC provides investors with plenty of upside
That means based on its most recent closing price, Citizens First trades at close to a 20 percent discount to tangible book value. No investor should make the potential for a takeover the determining factor in buying any stock, nor can we promise Citizens First will be acquired. What we can say is that the bank's discount to tangible book value does make it an attractive, potential acquisition target.
Enticing is the fact that Citizens First has continued to gain strength since the financial crisis even as many comparable banks across the country closed their doors or were acquired by stronger competition.
This is the benefit of not being overly leveraged or having made big bets on packaged real estate portfolios or being involved in sub-prime anything.
This is the benefit of paying attention to the business of banking and not to the business of investing.
The Bottom Line for CZFC
With its financial condition on solid grounds, Citizens First is a candidate to restore its dividend once the TARP tab is paid. The trailing ttm P/E is only 8.31 compared to a 16.8 national average, so CZFC would have to double in price just to get to the norm…I like these odds.
Bank analysts also like to look at individual metrics vs national averages that most of us small cap investors don't have a lot of experience with…like:
Net Interest Margin (Net interest income, on a fully taxable-equivalent basis if available, as a % of average earning assets) which is good at 4.41% vs 3.77%;
ROAA (Return on average assets; net income as a % of average assets) of 0.79% vs 0.42%;
ROAE (Return on average equity; net income as a % of average equity) of 6.92% vs 2.15%;
NCOs/average loans (Loans and leases charged off, net of recoveries, as a % of average loans, net of average guaranteed loans, and leases) which is low at 0.08% vs 0.18%.
Combine these strong fundamentals with the reality that CZFC shares are significantly discounted and Citizens First should continue generating stellar returns for investors.
Additional investment consideration: "Limited Natural Investors Creates Opportunity" for informed investors. Mindi McClure, Managing Principal of The Bear Companies, an investment banking and advisory firm located in the Washington, DC area wrote in a recent white paper that: Limited Natural Investors Creates Opportunity: The universe of potential investors in smaller capitalization banks is extremely limited. Most traditional mutual fund and hedge fund investors require more liquidity than is available from investments in small and micro-cap bank stocks.
Our take on this is that informed individual investors have a definite advantage in this sector… lack of broad-based institutional research coverage and interest, coupled with their inability to secure a significant equity position in individual issuers leaves the field wide open for the retail investor to make selective equity investments in high quality community banks.
About Citizens First Corporation
Citizens First Corporation is a bank holding company of Citizens First Bank, headquartered in Bowling Green, KY and established in 1999. The Company has branch offices located in Barren, Hart, Simpson and Warren Counties.
For additional information, visit the bank's website at http://www.citizensfirstbank.com
Recent News
Citizens First Corporation Announces Second Partial Repayment of TARP Investment, $3.3 Million Remaining on February 13, 2013
Citizens First Corporation (the "Company") (CZFC), the holding company of Citizens First Bank (the "Bank"), announced that on February 13, 2013 it repurchased from the United States Department of the Treasury (the "Treasury") an additional 94 shares of the original 250 shares of the Series A Fixed Rate Cumulate Perpetual Preferred Stock that the Company had issued to the Treasury on December 19, 2008 under the TARP Capital Purchase Program of the Emergency Economic Stabilization Act of 2008. The Company previously repurchased 63 shares in February, 2011.
The Company paid $3.3 million, which was 100% of par value, to repurchase the preferred shares along with the accrued dividend for the shares repurchased. As a result of the repurchase, the…
Click here to read the full release: http://finance.yahoo.com/news/citizens-first-corporation-announces-second-190600798.html
Citizens First Corporation Announces Fourth Quarter and Year End 2012 Results
BOWLING GREEN, Ky., Jan. 17, 2013 /PRNewswire/ — Citizens First Corporation (CZFC) today reported results for the fourth quarter and year ending December 31, 2012, which include the following:
For the twelve months ended December 31, 2012, net income grew to a record $3.2 million, or $1.11 per diluted common share. This represents an increase of $564,000, or $0.30 per share, from the net income of $2.6 million in the previous year. Provision for loan losses was $1.7 million for 2012 compared to $2.0 million for 2011.
Todd Kanipe, President & CEO of Citizens First commented, "Earnings growth in 2012 was directly attributable to our margin improvement and reduced provision expense. We improved our deposit mix and…
Click here to read the full release: http://finance.yahoo.com/news/citizens-first-corporation-announces-fourth-140100434.html
Mike Casson
Executive Editor
Follow me on Twitter
NOTICE: MicroCap MarketPlace (MCMP) is a financial publisher and not a broker/dealer or investment adviser. Readers, subscribers and web site visitors are responsible for individual investment decisions. All information contained in our newsletters or on our web site should be independently verified with the featured companies and readers should always conduct their own research and due diligence and engage professional advisors as they deem appropriate before making investment decisions. As you have read many times on these pages, micro-cap investing involves inherent risks and investors should carefully research any company considered for investment. Past results are not necessarily indicative of future performance.