Market Report – January 23, 2012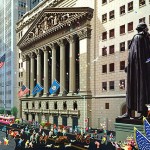 In the Rear View Mirror: It was another strong week for U.S. stocks as a slew of earnings reports were met with open arms, for the most part at least, and economic data remained good enough to keep fanning the flames of the January rally. The three-week winning streak for the S&P 500 is the longest since October 2011. Stocks closed the week with a glum earnings report from Google (Nasdaq: GOOG) weighing on the Nasdaq and S&P 500. Much of the Dow's 96.5-point jump was attributable to the big move in International Business Machines (NYSE: IBM).
Economic data surprises
Speaking of that economic data, the really stellar data point was out on Thursday. First time claims for jobless benefits fell to 352,000 last week, marking the lowest weekly number since April 2008. The four-week moving average dropped to 379,000, the second-lowest reading in three years. On Wednesday, the National Association of Home Builders/Wells Fargo housing market index rose four points to 25 in January, beating the reading of 22 economists expected while marking the fourth straight month of gains.
Believe it or not, Bank of America (NYSE: BAC) was one of the best performers in the Dow for the week and financials as a group are looking a lot better in the early stages of 2012 than they did at any point last year.
The week ahead brings more earnings reports, many from marquee names from marquee sectors. The earnings calendar is heavy on commodities-driven plays such as oil services stocks, integrated oil names and railroad operators. Or we could just make life easy and say that Apple's (Nasdaq: AAPL) after-hours report on Tuesday will be the week's prime event.
The Markets @ 1/20/2012
Index
Close
Weekly
% Change
YTD Change
YTD%
DJIA
12720.48
298.42
2.4%
502.92
4.12%
NASDAQ
2786.7
76.03
2.8%
181.55
6.97%
S&P 500
1315.38
26.29
2.04%
57.78
4.59%
NYSE Comp
7829.33
197.3
2.59%
352.3
4.71%
NYSE Amex
2299.45
34.53
1.52%
21.11
0.93%
RUS 2000
784.62
20.42
2.67%
43.7
5.90%
VANG INTL
13.84
0.57
4.30%
0.78
5.97%
USX CHINA
4981.52
161.4
3.41%
451.72
9.97%
EMERG MKTS
6540.74
277.43
4.43%
535.43
8.92%
Market Report
Overall, the news flow has been good and the performance of U.S. equities to start the year has been impressive. That said, Europe is an issue that cannot and should not be ignored. Investors looking for global exposure might do well to embrace developed markets that are not Euro Zone members or emerging markets.
After a long series of interest rate increases, Brazil's central bank is now lowering rates to facilitate economic growth and South America's largest economy has abolished a punitive tax on foreign investors that could be boon for Brazilian equities this year.
China appears to be loosening the reins in an effort to get banks lending again and the combination of an emerging markets resurgence along with a bullish run by U.S. equities could be just the tonic needed to get investors focusing on something other than Europe.
Every Index is Flashing Green…for the week AND Year to Date!
2012 is coming out of the chute and looking strong…ALL the indices we follow are a lovely shade of green, including the NYSE Amex, which is only up 0.93% YTD but it's up! Nasdaq continues to lead the way for the majors, showing an impressive 6.97%% gain so far this year..
China and the emerging markets jumped into the early lead and are still the front runners…with the USX China Index up 9.97% YTD and the Dow Jones Emerging Markets Total Return Index close behind at an 8.92% improvement since year-end.
Small and micro-cap stocks reverse 2011 trend
Small and micro-cap stocks in general, took a beating in 2011, with the Russell 2000 Index falling 5.45%. The high risk-high reward sector has so far in 2012, done a 180 degree turn around…up 5.90% YTD and showing no signs of slowing down.
Gold made another nice upward movement this week; closing at $1,663.70…up $33.10. Crude oil continued to back up a bit…down $0.24, to close at $98.46.
The dollar moved down (-0.0153 or 0.7733 Euros); the 10-year bond lost $1.469 to close at $99.750 and the 30-year bond lost 3.797 to close the week at $100.469.
The Bottom Line for Stocks
Three weeks into 2012, it appears the risk on trade is coming back on, if only on a gradual basis. Hey, gradual is better than not at all. This has been good news for higher beta large-caps, but now is an ideal time to focus on small- and micro-cap issues as well.
As we've previously noted, if small-caps perform well in January, that's a good omen for the rest of the year. Fortunately, they've done just that as another small cap metric…the iShares Russell Index Fund (NYSE: IWM) is up 4.4% to start the year.
The longer the market focuses on U.S. earnings reports and positive economics without putting so much emphasis on Europe, the longer this rally will run. In other words, what are value plays in the micro-cap space today may not be value plays much longer.
Research and Editorial Staff
MicroCap MarkePlace