Market Report – January 16, 2011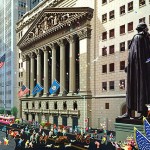 In the Rear View Mirror: For the first four days of the week, U.S. stocks looked pretty good. Then along came Friday. When the dust settled and the market closed on Friday, the good news was U.S. stocks rose for a second consecutive week. The bad news is Europe crept back into the discussion in a major way after Standard & Poor's lowered the credit ratings of nine European countries. Disappointing earnings report from Dow component J.P. Morgan Chase (NYSE: JPM) didn't help matters on Friday.
Consumer confidence takes big leap
In the search for a silver lining for the week, we offer up two scenarios. First, economic data was at least fair. Thursday's jobless claims number was higher than expected, but at least it was below the important 400,000 mark.
On Friday, we got news consumer confidence jumped to 74 from 69.9 at the end of December, according to the Thomson Reuters/University of Michigan preliminary index of consumer sentiment. Economists expected a reading of 71.5. That's good, too, but on Thursday weekly jobless claims came in at 399,000, as noted, higher than expected.
Beyond that, it is also worth noting the bullish performances of a couple of other Dow stocks this week. We're talking about Alcoa (NYSE: AA) and Caterpillar (NYSE: CAT). Alcoa, the largest U.S. aluminum producer, reported earnings after the bell Monday. Usually, Alcoa's earnings report is a non-event, but this week the stock gained almost 6%.
Caterpillar, the world's largest maker of construction and mining equipment, was up almost 7% on the week and combining that with Alcoa's run, it might be fair to say the risk on trade is coming back into style.
The Markets @ 1/13/2012
Index
Close
Weekly
% Change
YTD Change
YTD%
DJIA
12422.06
62.41
0.50%
204.5
1.67%
NASDAQ
2710.67
36.45
1.36%
105.52
4.05%
S&P 500
1289.09
11.28
0.88%
31.49
2.50%
NYSE Comp
7632.03
74.35
0.98%
155
2.07%
NYSE Amex
2264.92
-30.19
-1.32%
-13.42
-0.59%
RUS 2000
764.2
14.49
1.93%
23.28
3.14%
VANG INTL
13.27
0.16
1.22%
0.21
1.61%
USX CHINA
4817.42
224.24
4.88%
287.62
6.35%
EMERG MKTS
6263.31
179.44
2.95%
258
4.30%
Market Report
But hold on for a minute regarding the risk on trade totally coming into favor. As we noted earlier, S&P lowered the credit ratings of nine European countries. S&P cut the ratings of Italy, Spain, Portugal and Cyprus by two notches. France, Austria, Malta, Slovakia and Slovenia were all pared by one level.
Interesting anecdotes about these ratings cuts
Portugal's credit rating is now junk status. Italy, according to Reuters, now has the same credit rating as Kazakhstan…that's Kazakhstan as in Kazakh…freaking…stan. Austria and France have been booted from the AAA rating club and the rating downgrade for France is the country's first ever…a real blow to French pride!
Green lights a-flashing…except for the AMEX which has to spoil the party!!!
For the start of 2012…ALL the indices we follow looked like a sea of green, except for the aforementioned party pooper AMEX, with the Nasdaq continuing to lead the way for the majors…flashing a 4.05% gain YTD.
China and the emerging markets jumped into the lead with the USX China Index up 6.35% YTD and the Dow Jones Emerging Markets Total Return Index turning in a 4.30% improvement since year-end.
As we mentioned last week, the emerging markets index currently represents: Brazil, Chile, China, Czech, Republic Hungary, India, Indonesia, Malaysia, Mexico, Philippines, Poland, Russia, South Africa, South Korea, Taiwan, Thailand and Turkey. This geographic coverage in nine sectors including consumer goods, consumer services, financials, health care, industrials, oil & gas, technology, communications and utilities will provide us with a good indication of the health of international opportunities.
Gold continued its upward movement; closing at $1,630.60…up $14.50 for the week. Crude oil however backed off a bit…down $2.86, to close under the hundred dollar mark at $98.70.
The dollar made a very small upward move of +0.0022 or 0.7886 Euros; the 10-year bond gained 0.844 to $101.219 and the 30-year bond also moved up 2.125 to $104.266.
The Bottom Line for Stocks
Gains are gains and the fact that U.S. stocks are on a two-week winning streak to start 2012 should not be diminished. That said, with Europe still looming large on the horizon, something that will be the case probably for all of this year, it's hard to advise rushing head-long into high-beta stocks at this juncture.
The best way for that tune to change would be to see a spate of positive earnings reports and bullish guidance in the week ahead. Remember, even though this week is holiday-shortened, there's still a massive number of earnings reports coming.
Citigroup (NYSE: C) and Wells Fargo (NYSE: WFC) report on Tuesday, kicking off a week full of reports from the major banks. Thursday after the bell, Intel (Nasdaq: INTC) and Google (Nasdaq: GOOG) step into the earnings confessional and those reports should have a major impact on how the Nasdaq ends the week.
Two stocks introduced to our MicroCap MarketPlace readers have made some nice progress with American Manganese (TSX: AMY.V; OTC: AMYZF) leading the way with a 30.3% gain and China XD Plastics Co. (Nasdaq: CXDC) coming in with a positive 7.16%. Keep an eye on these pages for additional micro and small cap opportunities that are not necessarily market dependent.
Research and Editorial Staff
MicroCap MarkePlace