Market Report – December 19, 2011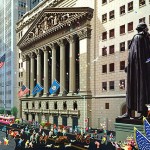 In the Rear View Mirror: The week that was wasn't the prettiest for investors with exposure to risky assets. In fact, it was downright ugly as all three major U.S. indexes closed down more than 2.5% for the week thanks to more problems courtesy of our friends across the Atlantic. Headlines involving Europe can give, as we saw on Friday December 9th…and they can take away. And that's exactly the situation investors had to endure this past week.
Not to be doom-and-gloomers, but we must say things look like they're going to get worse for the broader market before they get better. During the week, Fitch Ratings lowered its ratings on some of the world's biggest banking names including Bank of America (NYSE: BAC) and Goldman Sachs (NYSE: GS).
The ratings agency didn't stop there.
It pared France's rating outlook to negative and put the grades of Belgium, Spain, Slovenia, Italy, Ireland and Cyprus on review for a downgrade. The reason? Fitch doesn't see much chance of a positive resolution to the Euro Zone's sovereign debt crisis.
Then Friday after the close, Moody's Investor's Service cut Belgium's credit rating to Aa3, with a negative outlook, from Aa1. The ratings agency said the reason for its downgrade of Belgium, which some have speculated is in almost as much trouble as the PIIGS have been, was funding risks in the Euro Zone.
Belgium may still have an investment grade rating, but messing with Belgian stocks at this juncture is not advisable.
The Markets @ 12/16/2011
Index
Close
Weekly
% Change
YTD Change
YTD%
DJIA
11866.39
-317.87
-2.61%
288.88
2.50%
NASDAQ
2555.33
-91.52
-3.46%
-97.54
-3.68%
S&P 500
1219.66
-35.53
-2.83%
-37.98
-3.02%
NYSE Comp
7237.66
-265.22
-3.53%
-726.36
-9.12%
NYSE Amex
2204.91
-87
-3.80%
-3.47
-0.16%
RUS 2000
722.05
-23.35
-3.13%
-61.6
-7.86%
VANG INTL
13.09
-0.66
-4.80%
-2.67
-16.94%
USX CHINA
4500.87
-261.25
-5.49%
-1587
-26.07%
Market Report
All major indices ended the week on a colorful note…ALL RED.
The markets were down across the board: domestic, international, emerging, small cap, big cap…you name it. On the low side, the Dow only lost 2.61%, while the USX China Index shed a whopping 5.49%… sending its YTD number into the red for a 26.07% loss.
The DJIA is the only one showing a green number YTD; and it's hanging by a thread at plus 2.50%.
Gold continued to slide and gave back $117.20 for the week (that's 6.8%), closing at $1,595.60 on Friday; that's still a YTD gain of approximately 10%. The gold bugs are hoping the yellow stuff can hang in there for another two weeks and record its 11th consecutive year of positive gains. If so, it will have achieved something no other commodity has ever done.
Crude oil lost $5.88, closing at a six week low of $93.53; the dollar continued to move in the other direction … +0.0195 or 0.7665 euros; the 10-year bond gained 1.937 to $101.375 and the 30-year bond jumped up 5.125 to $105.469.
OK…we'll admit it; we may have been a bit optimistic a few weeks back because things are looking bad in terms of a Santa Claus rally. Today starts the last week before Christmas and we have just nine trading days left in 2011.
The few fund managers that are in the green for the year probably don't want to risk that performance with unnecessary trading this late in the year and those managers that are likely to report losses to clients for 2011 probably won't want to make matters worse with any silly year-end snafus.
Simply put, Santa Claus could very well fly right over Wall Street this year and not look back.
The Bottom Line for Stocks
Acknowledging we said last week that the fourth quarter is prime time to be owning consumer discretionary and technology stocks, we're not convinced the next couple of weeks are the time to be doing anything other initiating small positions or staying on the sidelines. Jim Cramer noted in a recent article that the technology sector is in "better shape than it looks." For a variety of reasons he said…"I think tech's OK.
"But it's going to be case by case. I just wish there were more better cases."
We think what looks like it can be had at a great price today, might be had at even better prices tomorrow or next week. Said differently, if you're looking to do a lot of shopping, do it at the mall and not in the stock market.
And as we commented last week, equities and any risky assets will have limited upside if Europe struggles to piece together a legitimate deficit-cutting plan. That's bad. What's worse is gold has completely lost its safe haven status, leading us to view the only the legitimate safe havens at this point seem to be cash, staples and utilities stocks/ ETFs.
On a positive note, we're glad to see some of our troops coming home and our thoughts are with those who will not be here for the holidays with friends and family.
From our family to you and yours, we wish you a happy holiday week.
Research and Editorial Staff
MicroCap MarketPlace