Brave Enough: Select European Opportunities For 2012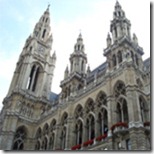 *Editor's note: These days, it's all about Europe. Our friends across the Atlantic just cannot seem to get their fiscal house in order and that has been the primary reason global stocks have been slumping this year. However, there are opportunities in Europe, so with 2011 drawing to a close, we thought it would be wise to take a brief departure from small-caps and take a look at some opportunities with well-known large-cap fare. As you'll see, Europe may be the only strike against the stocks and ETFs mentioned here.
It's probably pretty safe to assume most investors know that Europe, broadly speaking, has been a real pain in the you-know-what for at least 18 months now, maybe longer. European policymakers just cannot find a way to agree on deficit reduction measures, bond yields for the PIIGS have blown out and seemingly everyday there is legitimate risk one of the major ratings agency will downgrade the banks or sovereign debt of one of the Euro Zone countries.
All this has the Vanguard MSCI Europe ETF (NYSE: VGK) down almost 15% year-to-date. Oddly enough, the ProShares UltraShort Euopre (NYSE: EPV) is also down by roughly the same amount, but that's a story for another day.
The story today is… Europe is a mess and there's a reasonable chance at least one country will depart the euro common currency in 2012. All that said, smart investors can still find opportunity among beaten up Europe-based equities. Here are few to consider in 2012.
Royal Dutch Shell (NYSE: RDS-A): We spotted a cogent bull case for Shell on Tuesday and we couldn't agree more. With a superior dividend yield and higher payout in dollar terms, Europe's largest oil company has a lot to offer even conservative investors in 2012.
Eni SpA (NYSE: E): We'll stick with our oil theme and do so with perhaps developed Europe's riskiest oil stock. Like Shell, Eni has a yield approaching 5% and that also trumps all the U.S. majors and some other European oil names as well. Biggest reason to like Eni: the stock was knocked down by violence in Libya, where the company is the largest Western producer. Regime change in Libya should favor no oil stock as much as it favors Eni.
Global X Norway ETF (NYSE: NORW): More than 39% of NORW's weight is allocated to the energy sector so this ETF is a backdoor way of playing rising oil prices. That's not the best part. The best part is Norway's economy is among Europe's most reliable and the country, like Sweden and Denmark, is NOT a member of the Euro Zone.
Other Europe-based companies to consider in 2012 for risk-tolerant investors: BP (NYSE: BP), Transocean (NYSE: RIG), iShares MSCI Italy Index Fund (NYSE: EWP) and the Global X FTSE Greece 20 ETF (NYSE: GREK).
Europe stocks for conservative investors to consider next year: Nestle (PK: NSRGY), iShares MSCI Sweden Index Fund (NYSE: EWD), CurrencyShares Swiss Franc Trust (NYSE: FXF) and France Telecom (NYSE: FTE).
Posted by Dr. Micro