Market Report – December 5, 2011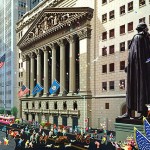 In the Rear View Mirror: The U.S. markets rang up their best week in two years even though Friday was basically unchanged. Finally some decisive steps by the Fed and other central banks to fix the European debt crisis sent stocks soaring on Wednesday…certainly more details are needed before we can consider this little more than a temporary liquidity fix.
And speaking of smoke and mirrors… the Labor Department reported that the unemployment rate fell to 8.6% last month, the lowest level in 2 1/2 years. Most economists had expected the rate to stay at 9%. However, the primary reason the unemployment rate fell so much was that more than 300,000 people gave up looking for work and were no longer counted as unemployed.
The Markets @ 12/2/2011
Index
Close
Weekly
% Change
YTD Change
YTD%
DJIA
12019.42
787.64
7.01%
441.91
3.82%
NASDAQ
2626.93
185.42
7.59%
-25.94
-0.98%
S&P 500
1244.28
85.61
7.39%
-13.36
-1.06%
NYSE Comp
7453.55
555.37
8.05%
-510.47
-6.41%
NYSE Amex
2252.37
147.04
6.98%
43.99
1.99%
RUS 2000
735.02
68.86
10.34%
-48.63
-6.21%
VANG INTL
13.78
1.15
9.11%
-1.98
-12.56%
USX CHINA
4853.71
289.75
6.35%
-1234.16
-20.27%
Market Report
The Dow jumped 490 points on Wednesday which was its biggest gain since March 2009 and one of the largest one-day gains ever. The 787 point gain for the week was the second largest in history…the largest was a 946 point weekly gain in October 2008.
Every major index we follow flashed green for the week with the Russell 2000 Small Cap Index leading the recovery with a 10.34% gain, followed closely behind by the Vanguard International Index at 9.11%.
The Dow and NYSE Amex averages moved back into positive territory for the year with the NASDAQ and S&P 500 within 1.1% of being in the green as well.
Gold moved up 61.50, closing at $1,747.00; crude oil moved up for the week too (plus 4.19, closing at $100.96); the dollar backed off slightly… -0.0085 or 0.7468 euros; the 10-year bond lost 0.625 to $99.688 and the 30-year bond was down 2.125 to $101.969.
The Bottom Line for Stocks
It's doesn't seem like we know enough about the European "quick fix" to feel comfortable saying that now is the time to move back into the market…that's of course assuming that you have preserved your cash position and are looking for a few good stocks to buy. If any major country defaults you can be assured that the markets will react suddenly and violently, trimming so many points off the Dow, you can go "Blue Chip" bargain shopping shortly thereafter. Keep your powder dry for now…if we uncover a micro cap stock that looks like it will move regardless of the direction the big boys go, we'll alert you in a special email. Be sure you have registered to get these special alerts.
Research and Editorial Staff
MicroCap MarkePlace