Market Report – November 28, 2011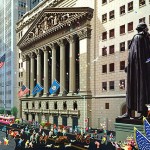 In the Rear View Mirror: Thankfully the U.S. market was closed on Thursday for Thanksgiving. On Friday, stocks continued their downward trend as investors' concerns about the European saga continued. The three main indices suffered their biggest weekly losses in the past two months and every index we follow flashed a bright red number.
There seems to be no foreseeable end to the debt crisis in Europe, and it is obviously having a negative impact; however, a unique but not necessarily new solution to the Eurozone debt crisis has been revisited during the past few weeks. There's talk about using "gold reserves" as collateral. This solution could be viable given that central banks in Europe own a ton (pun intended).
Gold has occupied a primary place in the world's monetary history and continues to be widely held as a reserve asset. The central banks of the G-20 nations hold two-thirds of official world gold reserves; include the gold reserves of the International Monetary Fund, the European Central Bank and the Bank for International Settlements, and the figure goes to nearly 80%, representing about 15% of all the gold ever mined. (Source: Fourthcurrency.com)
The concept of using gold as collateral was part of a wider scheme revealed by the European Commission on Wednesday. The EC also suggested the option of Eurobonds. However, Germany is resisting that idea which is annoying some financial analysts. On Wednesday, a German bond action failed miserably. The country sold just 3.6 billion euros worth of German 10 year bonds. German bonds are generally viewed as inviolable, thus the auction failure further weakened confidence in the Eurozone debt resolution.
The Markets @ 11/25/2011
Index
Close
Weekly
% Change
YTD Change
YTD%
DJIA
11231.78
-564.38
-4.78%
-345.73
-2.99%
NASDAQ
2441.51
-130.99
-5.09%
-211.36
-7.97%
S&P 500
1158.67
-56.98
-4.69%
-98.97
-7.87%
NYSE Comp
6898.18
-384.29
-5.28%
-1065.84
-13.38%
NYSE Amex
2105.33
-135.54
-6.05%
-103.05
-4.67%
RUS 2000
666.16
-53.26
-7.40%
-117.49
-14.99%
VANG INTL
12.63
-0.82
-6.10%
-3.13
-19.86%
USX CHINA
4563.96
-262.57
-5.44%
-1523.91
-25.03%
Market Report
The Russell 2000 Small Cap Index led this week's plunge with a -7.40% effort leaving it right at -15% YTD. The internationals were close behind moving 6.10% lower for the week and just about touching a negative 20% for the year.
The USX China Index backed off another 5.44% and leads all of our major indices with a YTD loss of 25.03%. China's GDP is likely to slow to 8.5% in 2012, down from 9.3% this year…and inflation looks to be in the 5.6% range, still above its 4% target. (OECD) With a soft property sector, slowing exports and lower factory activity, it's no wonder why the markets have punished China-based stocks.
Gold moved down 39.20, closing at $1,685.50; the dollar moved up slightly… +0.0159 or 0.7553 euros; crude oil backed off for the week too (down 0.64, closing at $96.77); the 10-year bond gained 0.438 to $100.313 and the 30-year bond was up as well at +1.531 to $104.094.
The Bottom Line for Stocks…"
This has been the worst Thanksgiving week since 1932, so now might be a good time to guard your gains and your cash. Keep an eye on the S&P at 1155 this week. Support levels of interest on the short term:  1155, 1145/1146, 1139/1140, 1133/1134 (20 day Simple Moving Average). Employ patience, follow your strategy and use stops as appropriate.
Research and Editorial Staff
MicroCap MarkePlace