Market Report – October 24, 2011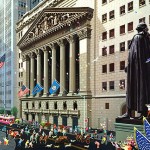 In the Rear View Mirror:It was an interesting beginning to the week as investors reacted favorably to positive reports that Germany and France agreed to increase the strength of Europe's newly revamped bailout fund… but the mood soured with a lack of concrete details. By Wednesday, the Federal Reserve had released a pessimistic report on the struggling U.S. economy, and stocks trended lower.
Thursday was mixed after a shaky start. Investors seemed spooked by the headlines… "Would the European Summit take place?"… "Will it be effective?" There was a partial recovery after Euro leaders verified that they will meet several times to endorse a fundamental plan to settle the debt predicament. Europe's leaders say a plan will be adopted by Wednesday. Investors also felt reassured after the Greek parliament passed the most recent set of austerity measures.With the ball is now rolling in the right direction in Europe, investors were in a more confident mood by the close of the week. U.S. stocks reached their highest levels since the beginning of August, and the closing surge moved the Dow back into positive ground for 2011.Libyan leader Moammar Gadhafi "bit the dust" on Thursday… several analysts had oil production increasing slowly over time; probably taking a few years to return to full capacity. In a recent research note, Dutch analyst Paul Sankey claimed Libya would 'struggle to resume the previous 1.6 million barrel-per-day levels even through 2014.'The U.S. Treasury department had begun thawing approximately $37 billion of Libyan assets even before Gadhafi's demise and will gradually make these assets available to the new Libyan government AND, it was good to hear the President say we will pull all US troops out of Iraq by this year's end. After nine years of conflict, our troops are finally coming home.Multiple factors obviously contributed to the market's positive movement.
The Markets @ 10/21/2011
Index
Close
Weekly
% Change
YTD Change
YTD%
DJIA
11808.79
164.3
1.41%
231.28
2.00%
NASDAQ
2637.46
-30.39
-1.14%
-15.41
-0.58%
S&P 500
1238.25
13.67
1.12%
-19.39
-1.54%
NYSE Comp
7431.1
80.64
1.10%
-532.92
-6.69%
NYSE Amex
2219.16
32.63
1.49%
10.78
0.49%
RUS 2000
712.42
-0.04
-0.01%
-71.23
-9.09%
VANG INTL
13.93
-0.09
-0.64%
-1.83
-11.61%
USX CHINA
4744.39
-172.49
-3.51%
-1343.48
-22.07%
Market ReportThe Dow Jones industrial average (DJIA) increased by 164 points, or 1.4%…moving back into green numbers YTD.
The S&P 500 (SPX) gained 13.67 points, or 1.12% for the week; NASDAQ was basically flat; and the NYSE rose 80.64 (up 1.10%). Indexes closed at their highest levels since early August…except Internationals, with China giving up 3 ½% for the week.

Economic & Financial Comments

John Nyaradi, of Wall Street Sector Selector expressed what most of us are thinking… "As members of the EU negotiate a potential crisis aversion for the ailing continent, one wonders if it is really possible that Europe can be fixed, and if indeed a second summit between its leaders can get the job done." It's a wait and see proposition…and the markets just react to the headlines!

Selected Corporate Results

This week saw some very interesting profit reports for GE, Microsoft, Apple and a few more.

The majority of GE's growth came from its Capital lending arm…but that counts too.

Microsoft (MSFT) announced record revenue results for the quarter, but Wall Street didn't really respond to the news. Verizon (VZ) reported great third-quarter results, (Net Profit up 31%) though investors appeared apathetic and the shares barely moved after the news.

Apple (AAPL) lost close to 7% for the past five trading days…off its all-time highs hit earlier in the week. The sell-off followed an earnings miss which the company reported on Tuesday. AAPL stock is close to hitting a support level at $390, and if the market continues to be strong, we could see it breaking above recent highs heading into the December quarter, which could be strong.

Sony Corporation (SNE) is struggling. The Euro financial crisis has taken its toll; and, the earthquake and tsunami that hit Japan earlier this year have had a compounding negative impact.

The Bottom Line

We continue to look for lights at the end of the tunnel…and believe the small cap sector offers the most promise. One particular stock we like is SaveDaily (SAVY), with its proprietary trading platform and cutting-edge technology that provides people of all income and asset levels the information and tools necessary to invest and self manage their short and long term savings goals.

SAVY has made some impressive gains in the past two weeks (up 25%) and we believe it has barely gotten started. Definitely…put SAVY on your radar, if not in the speculative section of your small cap portfolio. In the interest of full disclosure, Mike Casson, our chief strategist is long SAVY. Until next week…
Research and Editorial Staff
MicroCap MarkePlace