Market Report – October 17, 2011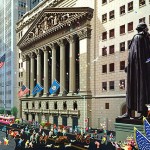 In the Rear View Mirror:
Surging profits by Google, a strong weekend launch anticipated for Apple's iPhone 4S and stronger retail sales sent stocks higher Friday and wrapped up a big week for U.S. markets. The Dow Jones Industrial Average turned positive for the year after three consecutive weeks of gains while the S&P 500 and NASDAQ turned in back-to-back weekly gains themselves.Google's (GOOG) third-quarter net income climbed 26 percent to $2.73 billion, or $8.33 a share, from $2.17 billion, or $6.72, a year earlier, beating analysts' estimates of $7.59… the primary reason seems to be that Web-search and display ads provide a low-cost way for small and middle market companies to reach customers on computers and smartphones.Analysts are predicting Apple's (AAPL) iPhone 4S sales could hit as high as 4 million by the end of the weekend and will be the best-selling iPhone yet. From the looks of the crowds lined up at Apple retail locations and its carrier partner stores to get a first crack the latest release, they could be right.
The Markets @ 10/14/2011
Index
Close
Weekly
% Change
YTD Change
YTD%
DJIA
11644.49
541.37
4.88%
66.98
0.58%
NASDAQ
2667.85
188.5
7.60%
14.98
0.56%
S&P 500
1224.58
69.12
5.98%
-33.06
-2.63%
NYSE Comp
7350.46
424.67
6.13%
-613.56
-7.70%
NYSE Amex
2186.53
92.24
4.40%
-21.85
-0.99%
RUS 2000
712.46
56.25
8.57%
-71.19
-9.08%
VANG INTL
14.02
0.88
6.70%
-1.74
-11.04%
USX CHINA
4916.88
423.07
9.41%
-1170.99
-19.23%
Market Report
The Dow rose 541.37 points last week or 4.88%, closing at 11,644.49. The index has increased 9.3% since hitting a YTD low of 10,655 on Oct. 3 and is 0.58% into positive territory for the year.The NASDAQ was sizzling with a 188.50 point weekly gain or 7.60%, closing at 2,667.85 and also moving it back into a positive YTD gain of 0.56%.

The S&P 500 rose 69.12 or 5.98% to 1,224.58. It was the best week since July 2009 and the highest close since Aug.3, when the 535 members of our "Washington Brain Trust" couldn't get their collective acts together over raising the debt ceiling. The index is still off 2.63% YTD.

The Vanguard International fund, [formally known as the "Vanguard Total International Stock Index Fund Investor Shares (VGTSX)"] is one we like to use as a barometer for investors looking to gain equity exposure to both developed and emerging economies. The fund tracks stock markets all over the globe, with the exception of the United States. The VGTSX gained 6.70% last week to close at 14.02, but is off 11.04% this year.

China Index Added
We added a new index to the chart that we have followed for quite a few years…the USX China Index (XHC) is comprised of China-based companies whose common stock is traded in the U.S. on the NYSE, NASDAQ and NYSE Amex and have a market cap of more than $50 million.

The index rose a blistering 9.41% last week; or 423.07 points to 4916.88…however, with continuing concerns about the China economy and this particular market sector, the XHC is still off 19.23% YTD. China small cap stocks were among some of the best performers in 2009, 2010 and into the first quarter of 2011…and we may be returning our attention to them fairly soon. We'll give you a heads up in future issues of the "Market Report."

Economic & Financial Comments
U.S. retail sales in September jumped 1.1%, beating the 0.3% gain in August and double what economists had projected. Retail sales are a key component of consumer spending which account for 70% of the economy. As covered in multiple wire reports, this was the latest positive on the economy and adds to the growing body of evidence that another U.S. recession isn't as likely as many had predicted.

On Thursday, Slovakia endorsed a plan to increase the authority of a bailout fund for struggling European governments and banks. Slovakia was the last of seventeen countries to approve the plan. This news improved European stocks on Friday. Britain's FTSE 100 (UKX) increased by1.3%; Germany's DAX (DAX) was up 1.3% and France's CAC 40 (CAC40) gained 1.4%.

"The market's decline was predicated on the collapse of the eurozone and a U.S. recession," said Dan Greenhaus, chief global strategist at the broker BTIG in New York. "Neither seems likely now."

Asian markets ended lower after a troublesome report on the subject of inflation in China. The Shanghai Composite (SHCOMP) dropped 0.3%; Japan's Nikkei (N225) tumbled 0.9%; the Hang Seng (HSI) in Hong Kong fell 1.4%.

The dollar gained against the Japanese yen, but fell against the British pound and the euro. Gold ended higher for the week with December delivery closing at $1,683 an ounce. That's about 1 percent higher than Monday's price of $1670.80.

Since gold hit a record high of $1,891.90 an ounce on Aug. 22, prices have fallen steadily. In a "Washington Post" report, Credit Suisse analysts in early October warned the summer's rally in gold prices looked "over-exuberant" in hindsight. That report most likely stoked worries of a gold crash…or at the very least, a softening of gold prices.

West Texas Intermediate (WTI) crude closed the week at $86.80 a barrel, up 5.5%, signaling more signs of a positive attitude for economic growth.

The Bottom Line
The U.S. dollar and Treasuries prices fell as investors moved money back into assets that perform better when the economy picks up. 10-year Treasury note yields rose to 2.25%, the highest level since this past August.

Good news on the U.S. economy and progress on resolving the European debt crisis have contributed to major stock indexes in recent weeks reversing a long slide.

The technology, energy and materials sectors of the S&P 500 were in the forefront of the rally last week. Google (GOOG) which gained 14.86% and Apple (AAPL) moving up 13.06% powered the technology sector. Range Resources (RRC), a Ft. Worth, TX based natural gas exploration, development and acquisition company was one of the strongest components of the energy sector, up 20.81% for the week and up over 61% YTD.

Cliffs Natural Resources (CLF) gained 16.71% for the week to lead the materials sector, closing at $65.21. It's off 16.41% YTD but has an attractive P/E of 5.90. Numerous set-backs this year have prompted the Cleveland, OH based company to announce that it will focus on its core business of producing raw material for steel manufactures. If that's the case, put CLF on your radar. Until next week…

Research and Editorial Staff
MicroCap MarkePlace