Market Report – October 10, 2011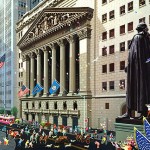 In the Rear View Mirror:The week got off to a shaky start due to continuing apprehension over the euro zone's debt crisis and its potential impact on the global economy. The euro finished Monday at a loss; Asian stocks were weak too and oil dropped by more than a dollar because of concern that the debt crisis would spread to nearby regions and reduce global demand. Looks like the worry warts were consistent across the board…and headed toward gold, which did well on Monday…closing at 1655.50Although Monday was a precarious day for Wall Street, stocks rose for the next three days in a row. This renewed optimism came after the European Central Bank launched fresh handling measures to help banks survive the debt crisis, easing one of the main worries threatening the markets. The ECB is purchasing covered bonds to help improve confidence in stocks, commodities and high-yielding bonds.European Commission president Jose Manuel Barroso advised member nations to recapitalize their regional banks which helped to push the markets up on Thursday. During a news conference, German chancellor Angela Merkel said that Europe mustn't falter in recapitalizing its banks, and stop the crisis from growing in strength. OK…so they're starting to get on the same page in Europe which could eliminate some of the market's nervousness.However, on Friday US stocks did fall into negative territory shortly before the closing bell. Credit cuts for Spain and Italy contributed to a last-ditch pop of profit taking. The Dow was off 0.18%, the S&P was down by 0.82 % and the NASDAQ slipped 1.10%. But…across the board, the indices we like to review, finished up for the week.
The Markets @ 10/7/2011
Index
Close
Weekly
% Change
YTD Change
YTD%
DJIA
11103.12
+189.74
+1.74%
-474.39
-4.10%
NASDAQ
2479.35
+63.95
+2.65%
-173.52
-6.54%
S&P500
1155.46
+24.04
+2.12%
-102.18
-8.12%
NYSE Comp
6925.79
+134.14
+1.98%
-1038.23
-13.04%
NYSE Amex
2094.29
+43.81
+2.14%
-114.09
-5.71%
Russell 2000
656.21
+12.05
+1.87%
-127.44
-16.26%
Vanguard Int'l
13.14
+0.22
+1.70%
-2.62
-16.62%
Market Report
Friday also saw silver and gold fall by 2.48% and 0.82% respectively, but West Texas Intermediate (WTI) crude climbed to $82.26 a barrel, bouncing off a 12 month low of $75.83 earlier in the week.
The jobs report was better than forecasted; The U.S. Department of Labor announced that the economy added 103,000 jobs during the month of September…part of this gain was due to Verizon workers returning to work after a strike. Unemployment held steady at 9.1%, unchanged. It seemed like investors were encouraged that they may not see a recession anytime soon…a stronger economy means more demand for energy which accounts for the reversal in oil prices.
The Bottom Line
Don't let the euro zone debt crisis run you out of the markets…quarterly earnings results will ramp up the next few weeks and they are likely to be solid with only a few major companies lowering guidance. Positive reports will provide a catalyst to extend the legs on the past week's gains.
In a recent article on Market Watch by Nicole Hong, Doug Cote, market strategist at ING Investment Management, said stocks are likely to keep rallying if fundamentals — that is, manufacturing data and earnings — continue marching forward. He expects another strong earnings cycle.
"The key catalyst for earnings growth is the emerging markets," Cote said. "U.S. corporations are the biggest beneficiary of double-digit growth in emerging markets."
Emerging markets and emerging technologies will be the subject of upcoming "Market Reports" – stayed tuned.
Research and Editorial Staff
MicroCap MarkePlace