Market Report – September 26, 2011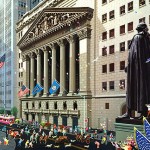 In the Rear View Mirror:
  Though last Friday was surprisingly quiet, it was nevertheless a pitiless week for the stock market. Concerns about the global economy led to a drop in gold, copper and other goods.Additionally, anxiety over Europe's debt increased due to news that eight Greek banks were downgraded by Moody's Investors Service. Finance ministers from several countries spoke about taking appropriate measures to sustain the stability of banking systems and financial markets, but nobody offered a definite plan of action.Difficulties in Europe drove some rather intense selling. Yet the main concerns were that the U.S. is moving toward another recession and policy makers were running short of measures to stop it.
The Markets
| | | | | | |
| --- | --- | --- | --- | --- | --- |
| Index | Close | Net Change | % Change | YTD | YTD % |
| DJIA | 10,771.48 | -737.61 | -6.41 | -806.03 | -6.96 |
| NASDAQ | 2,483.23 | -139.08 | -5.30 | -169.64 | -6.39 |
| S&P500 | 1,136.43 | -79.58 | -6.54 | -121.21 | -9.64 |
| Russell 2000 | 652.43 | -61.88 | -8.66 | -131.22 | -16.74 |
| International | 1,338.48 | -98.15 | -6.83 | -319.82 | -19.29 |
| 10-year bond | | | 1.81% | -0.27% | -1.48% |
| 30-year T-bond | | | 2.87% | -0.47% | 1.46% |
Market Report
The three major U.S. indexes tumbled by over five percent for the week. The Dow Jones industrial average saw its poorest weekly performance since October 2008. At the close on Friday, it was down 738 points or 6.4%. The S&P 500 (SPX) was down 6.5% (80 points), while the Nasdaq (COMP) fell 5.3% (139 points).On Friday, the Dow Jones industrial average (INDU) was up 0.34% (38 points) by the end of the day. The S&P 500 (SPX) gained 0.6% (7 points). The Nasdaq (COMP) was up 1.1% (28 points); Yahoo (YHOO, Fortune 500) was one of the best performers.After floundering earlier in the week, European stocks succeeded in finishing moderately higher. Britain's FTSE 100 (UKX) was up 0.5%. The German DAX (DAX) rose 0.6%. France's CAC 40 (CAC40) increased by 1%.By the end of the week, the Asian markets were in the red. The Hang Seng (HSI) in Hong Kong lost 1.4%. The Shanghai Composite (SHCOMP) dropped 0.4%, and Japan's Nikkei (N225) plummeted by over 2%.
Selected stocks, commodities and comments
On Friday, shares of Citigroup (C, Fortune 500) and Morgan Stanley (MS, Fortune 500) saw gains after enduring losses earlier in the week due to anxiety concerning U.S. exposure to Greek debt.Bank of America's (BAC, Fortune 500) also reported increases. A modest drop would put BofA shares into the five dollar range, which is the lowest level since March 2009.Hewlett-Packard (HPQ, Fortune 500) saw a loss on Friday; one day after CEO Leo Apotheker was forced out. The announcement of Meg Whitman, former CEO at eBay, taking the helm didn't do anything either to excite the market.Shares of KB Home (KBH) popped slightly after the homebuilder reported a smaller-than-anticipated loss for the third quarter but it hardly seems to matter in light of a 50%+ drop in share price over the last six months. J.P Morgan maintained its Neutral rating.Copper, gold and silver prices are taking a severe beating, and other commodities such as soybeans have also reported losses. We'll have more to say about this sector over the next few weeks.The dollar dropped against the British pound and the euro, but climbed slightly versus the Japanese yen.December gold lost $97 to $1,644.70 an ounce. November oil (light sweet crude) wasn't changed much at approximately $80.00 per barrel.
Bottom Line
Given the current state of affairs, your best bet is to maintain some liquidity and be ready when you identify an attractive opportunity. The market could move either way in the short term and our crystal ball is not working very well right now so we'll leave that call to the so-called gurus. However, if you're comfortable with short selling, you might consider such a strategy, especially if you believe things are headed south.One thing we are quite certain of is continued market volatility. Expect a wild ride in either direction. We therefore strongly suggest you resist a panic sale of good companies. If you want to protect your gains, consider using an appropriately positioned stop loss. The current environment demands self-discipline and vigilance, so whatever you do, don't go to sleep at the switch.
Research and Editorial Staff
MicroCap MarkePlace