Marijuana Stocks—Modern Gold Rush or "Green Rush"
Marijuana Stocks Have Caught Investors' Attention, but is it Just Smoke and Mirrors?
Setting the stock market world ablaze, marijuana, marijuana stocks and marijuana derivative companies have been sprouting up like weeds, enticing investors to jump in the pot business before they miss out on what could be the biggest investment win for the next 10 years… OR, before it all goes up in smoke.
General State of the Marijuana Market
Let's not kid ourselves, while marijuana has been made legal in 2 of our 50 states, the country has a long road ahead to national legalization—the drug is still federally classified as a Schedule 1 controlled substance.
Recreational marijuana use IS legal in only two states. However in June, New York became the 23rd state to legalize medical marijuana not including DC… BTW… this marijuana cannot be smoked.
Recently, Gallup reported that in its latest poll, support for legalization of marijuana has for the first time cracked 50%.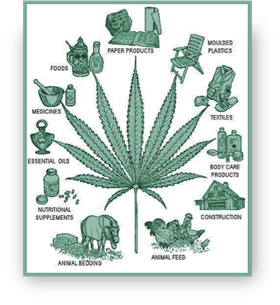 Additionally as has been widely reported, Congress has ordered the Drug Enforcement Agency [DEA] to cease any and all future raids on medical marijuana facilities in states that have legalized cultivation for medical purposes.
Marijuana Stocks… Where do they fit in this market?
Since 2012, when marijuana was legalized in Colorado and [then] Washington, there has been quite the uptick in marijuana related businesses.
Ranging from hemp plant cultivation [a cousin to marijuana], to THC delivery systems [like vaporizers], to medical marijuana grow houses and biomedical pharmaceutical companies—the sector has diversified and is booming with both public and private companies.
For the purposes of this discussion, we'll focus on the public companies, because that's how most of us could have a chance to participate in what could be a wildly successful and wildly entertaining new "Green Rush to Gold."
While the US market saw a surge in pot businesses, the international market gained some traction as well—specifically in Canada and the UK, with one rather large British company [more on that in the next section]. So, it would appear this boom isn't just a domestic play.
However, many of these new marijuana companies [if not most] are coming under fire just because they are listed as penny stocks. For our purposes, let's simplify the definition and refer to penny stocks as those OTC stocks trading below $5 a share.
Penny stocks seem to have a bit of a stigma—the albatross of the acclaimed penny stock is its volatile stock price and the reality that they really are higher risk plays… potentially huge rewards but with significant risk. That said…
One minute your penny stock could be the hottest thing in the market and then the next it's dumpster-city. Also, with penny stocks, more so than their listed cousins, there is the potential for market manipulation; this is where investors are more likely to run into a promoted deal or the so called "pump-and-dump scheme."
But, it's not really fair to say all the apples in this bunch are bad, it's just more accurate to say 'don't take any wooden nickels.' What's more, use a bit of common sense and do some DD—Due Diligence.
As is generally the case with most investments, don't be investing money you can't afford to lose. Marijuana stocks are certainly no different. And let me go ahead and nip this in the bud—there have been a few real ringers in this 'infamous' marijuana penny stock crowd.
Without further adieu, here is a quick look at some of the marijuana stocks that have shown up on our radar.
Kush or Krash: An Objective Look at the Spectrum of Pot Stocks
This new "Green Rush," has allowed for the accelerated expansion of a sector that was rather hush-hush—which of course has its pros and cons. With the boom we have seen, as stated before, a lot of marijuana related companies sprung up, essentially overnight.
And, as is the case with any booming market, there is the likelihood of some brilliant and a few half-baked ideas.
So, how do you identify the better investments from the dismal black holes? While there is no 100 percent guarantee in any market, one could take a look at a few 'data points.'
Where is the stock trading? Is it a reporting company, and if so to whom does it report? What does the balance sheet look like; do they have enough cash to stay alive past next Wednesday?
Look at the trending news on the company, stock price [current and the last 6 to 12 month prices, paying particular attention to the Hi/Lo closing prices], and daily trading volume…see if the ebb/flow of the stock is possibly all hype from promotions or has some actual substance.
Where are most of these Marijuana Stocks trading?
As of right now, most marijuana stocks are trading in the US Over-The-Counter Market… there are a few Canadian issues and one dual listing is on the NASDAQ GM. Potentially in the near future, there could be a NYSE stock or two.
Why NYSE in the Near Future?
Analysts on Marketwatch.com believe the large agriculture titans like Aegion Corp. [NASDAQ: AEGN], Calgon Carbon Corp. [NYSE: CCC], and Lindsay Corp. [NYSE: LNN] will be absorbing much of the market demand for cultivation of the legalized marijuana market—not that big of a stretch considering they already have the means to do it [barring the actual plants].[1]
Marijuana related Canadian stocks are found on the Toronto Venture Exchange [TSX VE] and the new Canadian Securities Exchange [CSE]. The London Stock Exchange [LSE] is the home of the dual listed NASDAQ stock… but there only appears to be one British entry so far.
OK… so what's happened in the last 6-7 months?
We thought it might be interesting to go back to Q4 2013, before the big run up started and track a few stocks… arbitrarily we decided on a seven month time frame (12/2/13 to 7/1/14). With that in mind, let's take a look at two high flyers, based on their closing prices.
Terra Tech Corp. [OTC QB: TRTC] recorded a 628.57% gain in seven months. And that was after it had rolled back from a 52 week high of $1.42 on March 12th… on that date it was up 2028.5%
During the same time span, GreenGro Technologies, Inc. [OTC: GRNH] sported 836.48% gains. Also, very nice for early investors. Traders had a chance to make a killing if they timed the high of $1.20 on January 8th. GRNH was up 3900% in less than 45 days!!!

Neither one of these micro caps would have qualified as a "well capitalized" opportunity, but they certainly caught the market's attention.
Moving Up the Food Chain
Next we have our lone NASDAQ GM stock—this shouldn't discourage you though, if at all; as a matter of fact, I've contemplated kicking myself in the rear-end for not catching this particular stock before its big jump.
Admittedly, the gain was only 207.59% [Dec. 2, 2013-July 1, 2014], but this is a big boy stock. We aren't dealing in pennies, we aren't dealing in nickels, dimes, or even quarters—we are in the major leagues now. GW Pharmaceuticals plc [NASDAQ GM: GWPH] stock went from $34.90 to $107.35!

The price has dropped somewhat since July 1, from over $100 a share, begging the question of why.
Well, GW Pharma has ridden a bit of market hype since mid-2013, but not without good reason. They developed a cannabinoid [class of chemical compounds found in marijuana] medicine, Sativex, for treating spasticity in Multiple Sclerosis (MS). Sativex® has now been launched in 11 countries (including the UK, Spain, Italy and Germany) and approved in 13 more.[2]
Additionally, the FDA has granted Fast Track designation to Sativex® for the treatment of pain in patients with advanced cancer, who experience inadequate analgesia during optimized chronic opioid therapy. Sativex is currently in Phase 3 clinical trials for this indication. Need I say anymore in terms of investor opportunity should this drug be approved?
Also, the stock had a mid-June 2014 surge following the Company's press release about promising signs of efficacy and safety for patients with treatment-resistant epilepsy who were treated with GW's Epidiolex, an investigational cannabidiol, or CBD product candidate. Read the full press release here: http://finance.yahoo.com/news/gw-pharmaceuticals-reports-promising-signs-111331812.html
Regardless of all the great news coming out of GW, a seven month gain of over 200% was hard to hold, even for a NASDAQ traded stock, especially one that is not yet profitable. We think you might keep GW Pharma in mind and take advantage of any price weakness you see that pulls it back into your buying range.
BTW… on June 30, 2014, Piper Jaffray analyst, Joshua Schimmer, MD boosted his price target to $147.00 from $97.00.
Onto the International Scene
Like the US market, Canada has its equivalents. The TSX Venture (TSXVE) and Canadian Securities Exchange (CSE) would be the Canadian version of the US OTC market—two exchanges for emerging markets and industries.
Unfortunately, the TSXVE listed several companies I was able to track down that haven't been around long enough to fall into our seven month model; however, here is one stock that did—Chlormet Technologies [TSXVE: CMT à CSE: PUF] went from $0.06 to $0.465 [flashing a 675% gain!].

On June 24, Chlormet Tech voluntarily de-listed from the TSXVE and moved to the CSE… that's why you see a new symbol (CSE: PUF). The Company is still waiting for the approval of a Canadian MMPR [Marihuana for Medical Purposes Regulations] license. It's hard to argue strongly for a medical marijuana company that needs a growing license, but Chlormet has not been totally slowed by this regulatory formality.
Per a recent Company press release, "they entered into an exclusivity agreement with Babcock Bench Farms LLC ("BBF") of Washington State to lease property, building and equipment in support of BBF's state approved marijuana Production and Process License under Washington State Initiative 502.
"This will be facilitated by a long term lease and profit-sharing agreement." As stated by company President, Yari Nieken. "We're extremely excited about the growth and income potential in Washington State with the BBF partnership."
The market hasn't been as excited as the Company… PUF recently closed at $0.15.
Two other Canadian stocks popped up on our radar
Affinor Growers, Inc. (CSE: AFI) (OTCQB: RSSFF)
Affinor Growers is a diversified publicly traded company focused on growing high quality crops such as romaine lettuce, spinach, strawberries and high quality medical Marijuana. Affinor is committed to becoming a pre-eminent grower, using exclusive vertical farming techniques.
From a 12/2/13 close of $0.025 to $0.73 CAD on 7/2/14 (July 1st was Canada Day and the markets were closed), Affinor gained $0.705 or 2820%. AFI is currently trading in the $0.50 range.
Abattis Bioceuticals Corp. (CSE: ATT) (OTCQX: ATTBF)
Abattis is a specialty biotechnology company with capabilities through its wholly owned subsidiaries of cultivating, licensing and marketing proprietary ingredients, bio-similar compounds, patented equipment and consulting services to medicinal markets in North America.
Reading from a recent press release, the Company is positioned to capitalize on the fast growing trend toward marijuana legalization in the United States and for medicinal use in Canada and international jurisdictions, by supplying and partnering with companies to employ its mass cultivation systems, extraction equipment/technology, and strategic marketing support to licensed growers.
July 15, 2014, Abattis Pounded Its Chest as the First Marijuana Stock to List on the OTCQX
This is not an insignificant event. The OTCQX marketplace is for qualified, investor-focused U.S. and global companies that meet high financial standards, are current in their disclosure, and receive third-party advisory. According to the OTC Markets website, these companies are "distinguished by the excellence of their operations and diligence with which they convey their qualifications" making them both more reliable and safer for investors.
Foreign companies that list on the OTCQX marketplace include large-cap names like Adidas Group (OTCQX: ADDYY), Canadian Oil Sands (OTCQX: COSWF), and Roche Holdings (OTCQX: RHHBY), highlighting the marketplace's prominence.
Read the Company's full press release here: http://finance.yahoo.com/news/abattis-makes-history-first-marijuana-120000768.html
London Exchange has the "Big Dog" in this Market
The real international heavy hitter (with a Market Cap [in millions] of £ 1,018.03… that's $1.7 billion US), hails from Great Britain. This company is actually the umbrella corp. for the NASDAQ listed GW Pharma (GWPH).
On the London exchange it is listed as GW Pharmaceuticals [LSE: GWP.L]. GWP.L saw a 195.76% gain in our seven-month model. Starting at $177.00 GBp, the stock rose to $523.50.

It has since settled back to the $425 range and there has been some market concerns that its valuation is still relatively high. Todd Campbell, writing for the Motley Fool, suggests that the company is going to need an approval in cancer pain [management… and more revenues] if it hopes to lower its sky-high valuation of more than 20 times forward sales.
But like most of the stocks in this sector, early investors had a chance to take a lot of money off the table and many are probably still enjoying some nice gains. The key question might be…"do I stay in for the long haul?"
I'll have some comments for you in my Bottom Line summary.
Listed Stocks and Reporting Status
As we addressed earlier, when considering a stock in this market [any market for that matter] you should be aware of the reporting status of the stock. This only really becomes a 'problem' when dealing with some of the OTC listed stocks.
By requirement, companies listed on NYSE, NASDAQ, TSXVE, CSE, and LSE must report. NYSE and NASDAQ companies are reporting to the Securities and Exchange Commission [SEC]—TSXVE and CSE and LSE companies report to their equivalents.
Given the stricter regulations of the SEC and other regulatory authorities, one can assume the listed companies are playing by the rules.
Back to the OTC Stocks
With the OTC listed stocks you may run into 1 of 3 things:
SEC Reporting Companies (OTCQX, OTCQB, OTCBB)
Alternative Reporting Companies (OTCQX, OTCQB)
Non-Reporting Companies (OTC Pinks, Other OTC or Grey Market)
Just because a stock isn't listed on NASDAQ or NYSE doesn't mean it can't report to the SEC, in fact this is what you would be looking for. It's a 'best case scenario' for OTC stocks. As it just so happens many of the US OTC marijuana companies are SEC reporting!

Here's a look at some of those companies. Note, a bit of DD here—the companies highlighted in red are Heavy Caution and the yellow are Caution.
Advanced Cannabis Solutions [OTC: CANN] and GrowLife, Inc. [OTC: PHOT] are currently classified as a grey market stock; the SEC suspended the trading of these stocks sometime in the recent past.[3,4] This is not always due to company wrongdoing; there is usually more to it the meets the eye so check them out closely.
In the case of CannaVEST Corp. [OTC QB: CANV], they are dealing with a class action lawsuit; the stock is still being traded, but it's not looking good at this time.[5] They took a nose dive in February from a 52 week high of $201.00 to below $7.00 at this writing.
As for AVT, Inc. [OTC: AVTC] and Omnicanna Health Solutions [OTC: ENDO], they are or were recently delinquent on their reporting to the SEC—not the worst that could happen, but something to be mindful of.[6,7] If you like one of these companies, check to see if they are now compliant.
Next down the list are the OTC Alternative Reporting companies—they don't file with the SEC, but they are publishing their financials.

As you can see, none of these companies were highlighted, but then again they aren't filing with the SEC, so they may be 'playing by different rules.' Additionally, many of these stocks are significantly cheaper than those listed in the SEC Reporting chart.
Last on the list are the Non-Reporting Stocks

The red highlighter has returned—Fusion Pharm, Inc. [OTC: FSPM] is classified as a Grey Market stock on OTC Markets (Caveat Emptor-Buyer Beware), most likely, because their trading was suspended by the SEC in May.[8] As for Homeland Security Corp. [OTC: HSCC], while there is nothing reportedly wrong with the company, the stock is trading under $0.02 so you may wonder…Why is this company not reporting? Good question…
Take a Look at the Books
To review in detail, the financials of every stock we've looked at thus far would take a bit more time than I have at this writing; however, there are a few universal metrics [pot stock or not] that you can evaluate when looking over a marijuana company's financials, namely the balance sheet [assuming they report them]. Start with these:
Working Capital [9]
Current Ratio [9]
Quick Ratio [9]
Debt-Equity Ratio [10]
Working Capital = Total Current Assets – Total Current Liabilities
Long story short, this calculation will let you know whether or not the company is generating or draining money; you want to make sure you have a positive answer otherwise it could be time to jump ship.
Current Ratio = Total Current Assets/Total Current Liabilities
The Current Ratio should tell you how strong the company is financially. More specifically, can the company not only afford to pay off its current liabilities, but do so in a timely manner and with ease. You are, ideally, looking for a two or higher in the answer.
Quick Ratio = (Current Assets – Inventory)/Current Liabilities
This calculation takes the company's financials down to bare bones, cold hard cash. The Quick Ratio will paint a picture of how the company will handle financial obligations if the market/business takes a dive. Again, you want a positive number; a suitable answer may range between .5 and 1—you just want to make sure the company can stay afloat if the liabilities start stacking up.
Debt-Equity Ratio = Total Liabilities/Shareholders' Equity
The Debt-Equity Ratio will compare how much "suppliers, lenders, creditors and obligors have committed to the company versus what the shareholders have committed."[10] The lower the percentage, the more financial control the shareholders have over the company.
I am not suggesting that you can make a fully informed decision by reviewing the above four metrics… but it is certainly a good place to start your investigative process.
Media Buzz and Trading Patterns
As many investors noticed, the marijuana market boom earlier this year was all over the place. Volatile stock trends, overvalued and inflated stock prices, and the media fueling the investor frenzy was almost non-stop… what a recipe for chaos. Sifting through the hype and craze of the market was a crap shoot.
For this situation there has never really been a solid rule, metric, or calculation, but possibly a bit of common sense and observation would serve as adequate DD.
When a stock, that has been hovering at $0.10 for months [give or take maybe a penny or two up/down], rockets up to $0.70 in the matter of a few days—and the daily trading volume was also considerably low at the $0.10 interval and now it's 20 to 50 to 500x—the first thing that comes to my mind is "promo, promo, promo."
Don't try to tell me there is genuine substance behind this price jump? No way… because 3-5 days or a few weeks later it plummeted back down to or even below $0.10 and said stock returned to the small volume norm.
As a rule of thumb, if a stock chart reads like the EKG of a dead man [flat line], and then suddenly turns into an adrenaline junkie [and possibly has some history of this behavior] it's time to pull the plug, run for the hills or thank your lucky stars that you didn't dump anything into this one in the first place.
The Bottom Line: Why You Might Consider Pot Investing
Below is a one year look at the MJX Marijuana Index (of 40+ stocks)…which looks like most of the stock charts in this sector… higher than they were a year ago but not as high as they were in the first quarter of 2014.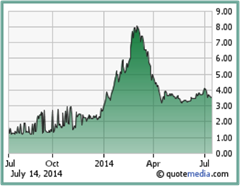 Per the Company's website, "the Marijuana Index (also known as The Medical Marijuana Index or The Cannabis Index) is the first and only registered* equity tracking index which monitors the performance, news, commentary, and general pulse of marijuana stocks, cannabis stocks, and hemp stocks.
"Weighted by market-cap (as determined by listed common shares outstanding multiplied by last trade price), the index provides existing or prospective investors with a narrow and centralized view of these pioneering securities which are positioned within a multi-billion dollar growth industry."
Early investors who traded this market could have pocketed some very significant gains. Those who have not yet dipped their toe in the water may be getting another chance with the sector pulling back like it has.
So the questions are… Where is the market going? Is the timing right to get involved? Do I stay invested? What's a girl to do?
Even though the initial buzz from the marijuana market may be leveling out, we don't necessarily see that as a bad thing. With this tapering down, some mice have been separated from some men.
The hyped up phony-bologna companies can't stay afloat because they don't have a real business model, or are undercapitalized or just can't execute.
The more substance based companies like GW Pharmaceuticals (NASDAQ GM: GWPH) which is very well capitalized and MedBox (OTC QB: MDBX) which has a pretty good balance sheet and is cranking out sales… and possibly Abattis Bioceuticals (CSE: ATT) (OTCQX: ATTBF) which just got a sizeable infusion of cash but has yet to produce revenues…might be on the brink of something that could very likely change society.
Here's the Real Message
Don't invest in a company that bandwagons or talks more than it produces [if anything]; don't invest in an early stage company if you can't afford to be in it for 3-5-7 years [take a lesson from Warren Buffett]; do your own Due Diligence; and if you have a chance to take some $$$ off the table and lock in positive gains… I'd suggest you do it and then play with the "House's Money."
The US appears to be steadily moving toward a future where the marijuana plant will in some way, shape, form or fashion, be a legal staple in our changing culture.
If this sector intrigues you and you have the disposition for heightened risk…then you might want to get out in front of it and buy into those companies that pass your personal litmus test.
Mike Casson
Executive Editor
Follow me on Twitter
A special note of thanks goes out to Hunter Higgins, a summer intern and now recent graduate from Southern Methodist University here in Dallas, who did the heavy lifting on this report… and in case you were wondering, Hunter did not conduct any personal research on medicinal or recreational applications of the subject matter.
Sources & References
1. http://blogs.marketwatch.com/cody/2014/02/27/best-stocks-for-legalized-marijuana-and-more/
2. http://www.gwpharm.com/Sativex.aspx
3. http://www.otcmarkets.com/stock/CANN/quote
4. http://www.otcmarkets.com/stock/PHOT/quote
5. http://finance.yahoo.com/news/ryan-maniskas-llp-announces-class-220000102.html
6. http://www.otcmarkets.com/stock/ENDO/profile
7. http://www.otcmarkets.com/stock/AVTC/profile
8. http://www.otcmarkets.com/stock/FSPM/quote
9. http://smallbusiness.findlaw.com/business-finances/reading-a-balance-sheet.html
10. http://www.investopedia.com/university/ratios/debt/ratio3.asp
11. http://antioligarch.files.wordpress.com/2014/01/cannabis-industrial.jpg?w=869
12. Yahoo Finance—Stock symbol data and stock price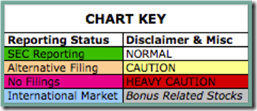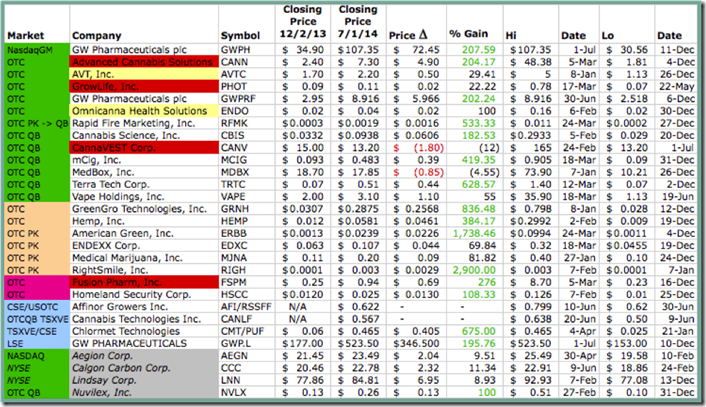 NOTICE: MicroCap MarketPlace (MCMP) is a financial publisher and not a broker/dealer or investment adviser. Readers, subscribers and web site visitors are responsible for individual investment decisions. All information contained in our newsletters or on our web site should be independently verified and readers should always conduct their own research and due diligence and engage professional advisors as they deem appropriate before making investment decisions. Past results are not necessarily indicative of future performance.