Market Report – January 7, 2013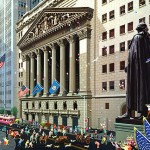 In The Rear View Mirror
 In a holiday-shortened week, U.S. equities soared, notching their best weekly gains in 13 months as U.S. policymakers finally got round to solving the fiscal cliff. On the week, the S&P 500 surged 4.6 percent while the Dow Jones Industrial Average added 3.8 percent. The bulk of the gains were accrued on New Year's Eve, in anticipation of a fiscal cliff deal, and then on the first trading day of the New Year after lawmakers finally reached a cliff compromise.
January a harbinger for 2013?
To put the week's gains into perspective, the S&P 500 added 1.7 percent on New Year's Eve and 2.5 percent on January 2. Obviously, that means the other two days of the week were not all that exciting, but a quick start to January can often mean that the month itself will work in favor of the bulls. On a historical basis, the broader market's year is often determined by January's results.
The result of last week's action was the S&P 500 soaring to its highest levels since late 2007. And with the Russell 2000, the benchmark small-cap index climbing 5.3 percent, it was a very good week indeed for micro-caps, too. The iShares Russell Microcap Index (NYSE: IWC) added 5.8 percent while the Guggenheim Wilshire Micro-Cap ETF (NYSE: WMCR) soared nearly 5.9 percent.
The Markets @ 1/4/2013
 
Index
Close
Weekly
% Change
YTD Change
YTD%
 
 
 
 
 
 
DJIA
13435.21
497.1
3.84%
331.07
2.53%
NASDAQ
3101.66
141.35
4.77%
82.15
2.72%
S&P 500
1466.47
64.04
4.57%
40.28
2.82%
NYSE Comp
8667.68
351.51
4.23%
224.17
2.65%
NYSE MKT

 

2388.67
64.61
2.78%
33.01
1.40%
RUS 2000
876.91
44.22
5.31%
27.56
3.24%
RUS MICRO
54.18
2.97
5.80%
1.86
3.56%
VANG INTL
47.2
0.95
2.05%
0.9
1.94%
CHINA INDEX
4571.98
219.56
5.04%
133.46
3.01%
EMERG MKTS
7234.5
196.35
2.79%
194.53
2.76%
Market Report
I'm an index…you can color me GREEN for the week
Every index we follow closed the week in the GREEN…the majors were led by a 4.77% gain in the NASDAQ and a 4.57% gain in the S&P 500.
However… the Russell Microcap Index beat them all with a 5.80% gain.
Our China Index gained 5.04% for the week and is now showing a 3.01% gain YTD.
I'm an index…you can color me green for 2012…YEA
As we noted in last week's post, with the exception of our China Index, all the other indices we follow were in the green YTD. Last Monday's strong positive move in the markets added to the 2012 YTD gains…essentially across the board.
The NYSE MKT (AMEX) was still the low man on the totem pole as far as the market indexes were concerned with gains of 3.39% for the year while the Big Board NYSE Index sported a 12.93% gain YTD.
The DJIA, which was sputtering, jumped up 166 points on 12/31 and closed the year with a 7.26% gain. This was an improvement over 2011's 5.53% gain but well short of the 18.82% and 11.02% for 2009 and 2010 respectively.
The S&P 500 turned in a respectable 13.41% gain YTD which was 13.41% better than 2011 when the index was a flat 0.00% and left investors wishing for the 23.45% and 12.78% gains of 2009 and 2010 respectively.
NASDAQ clearly outpaced the majors with a 15.91% gain for 2012, a very welcomed change from the -1.80% it recorded in 2011. For reference purposes, the gain was 16.91% in 2010.
Microcaps were winners in 2012
The micro-cap sector turned in some really nice numbers for 2012… the Russell Microcap Index gained 17.18% for the year and the Russell 2000 gained 14.63%. Let's hear it for the MICROCAP boys.
Our Emerging Markets Index closed the year with a 17.20% gain; the Vanguard International Index flashed some green numbers too with a 13.82% gain and as we mentioned above…China was the only index we follow that finished in the RED for 2012 with a 2.02% loss.
The Dollar showed mixed results for the week ending 1/4/2013
The US Dollar gained a little ground the Euro (closing at 0.7652 Euros; plus $0.0086 for the week); bonds were off…the 10-year bond lost $1.80 to close at $97.41 and the 30-year bond lost $4.28 to close at $93.02.
Oil prices continue upward move
WTI Crude Oil gained $2.29 this week to close at $93.09 on Friday. PIMCO's Bill Gross tweeted that oil will move above $100 sometime during the year…We wouldn't disagree with that forecast.
Gold declines again…off $6.20 this week…to close at $1,648.10
The "fiscal cliff" issue is somewhat resolved but of course we now have the "debt ceiling" issue which will play havoc with gold and the markets for the next 90 days…Bill Gross' fearless forecast has gold going higher…how high is yet to be determined.
In economic news, the Institute for Supply Management said its manufacturing index rose to 50.7 in December from 49.5 in November. Readings above 50 signal expansion. ISM's employment index rose to 52.7 from 48.4 in November.
The Commerce Department said construction spending fell 0.3% in November. The October number was revised lower to an increase of 0.7% from an initial reading of growth of 1.4%. The November decline is the first since March 2012.
The ADP private sector payroll report showed the addition of 215,000 new U.S. jobs last month, up from a revised 148,000 in November. The Labor Department delivers the December jobs report on Friday morning.
The Labor Department said initial claims for jobless benefits rose by 10,000 to 372,000 last week. Economists expected a weekly reading of 360,000 claims. The less volatile four-week moving average rose to 360,000 from 359,750.
The Institute for Supply Management's services sector index for December jumped to 56.1% from 54.7% in November. Economists expected a December reading of 54.7%.
On Friday, the big kahuna of data points, that being the monthly jobs report, showed employers added 155,000 new jobs in December. Unfortunately, the U.S. unemployment rate rose to 7.8 percent.
Overall, for week that included just 3.5 trading days, the first week of the New Year was highly active on the political headline (fiscal cliff) front and chock full of economic data points. It is worth noting that the aforementioned ISM reports are encouraging and Hurricane Sandy is likely to blame for the lethargic pace of job creation in December.
Now policymakers and investors must turn their attention to a new debate on Capitol Hill: The debt ceiling. How many more road blocks until we have a little clear sailing…? Stay tuned.
The Bottom Line for Stocks
Without the benefit of a crystal ball, there is no telling how long the market's suddenly ebullient tone will last. A conservative assessment would say "not for long" simply because the debt ceiling debate has the potential to be a sequel to the fiscal cliff shenanigans.
As for micro-caps, there is no getting around the fact that financial services names have asserted themselves as a leadership group to start 2013. Materials can also be added to the list of compelling sector bets.
Energy names are showing signs of life and that group does offer some good value at current levels. Take a look at Black Ridge Oil and Gas (ANFC)…they reported Third Quarter 2012 results that "were the best in the history of the Company," according to a recent press release. Quarterly revenue was $2,285,731, an increase of 154% compared to the three month period ended September 30, 2011, and a 66% increase compared to the three month period ended June 30, 2012.
As of November 12, 2012, the Company controlled approximately 11,449 net mineral acres in the Bakken and Three Forks formations and had $16,500,000 in its revolving credit facility to continue its unique low-overhead, non-operator business model. Black Ridge seeks working interests in oil and gas wells and participates on a pro-rata (heads up) basis with operators in wells drilled and completed in spacing units that include its acreage.
ANFC seems to have good support in the $0.50 range and has nearly doubled from its 52-week low on 9/24 of $0.26. Black Ridge could have another double in it to $1.00 plus in the next six to nine months. This is definitely a microcap to consider for your speculative portfolio or at the very least, keep ANFC on your radar.
Research and Editorial Staff
MicroCap MarkePlace
Mike Casson, Executive Editor