Market Report – December 31, 2012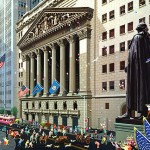 In The Rear View Mirror
Apparently, Santa Claus did not get the memo about his namesake rally on Wall Street this year because U.S. stocks ended Christmas week in dour fashion. Stocks fell for a fifth consecutive day last Friday with the S&P 500 and the Dow Jones Industrial Average falling by more than one percent each. The Nasdaq looked sort of good by comparison with a loss of 0.86 percent. For the week, the S&P 500 and the Dow each lost 1.9 percent while the Nasdaq slid two percent.
On Friday, losers outnumbered advancers by a ratio of slightly more than 2 to 1 on the New York Stock Exchange, while on the Nasdaq, two stocks fell for every one that rose, according to Reuters data. The five-day losing streak for the S&P 500 is the benchmark index's longest slide since September. Moreover, risk appetite endured a serious blow this week.
Riskier assets of all stripes tumbled as investors sought safe havens in the form of the U.S. dollar, gold and Treasuries. Broadly speaking, micro-caps were not resilient in the face of this week's dour headlines as the iShares Russell Microcap Index Fund (NYSE: IWC) fell 2.5 percent. Interestingly, the Guggenheim Wilshire Micro-Cap ETF (NYSE: WMCR) fell by significantly less, 1.7 percent, and found a way to close higher on Friday.
The Markets @ 12/28/2012
 
Index
Close
Weekly
% Change
YTD Change
YTD%
 
 
 
 
 
 
DJIA
12938.11
-252.73
-1.92%
720.55
5.90%
NASDAQ
2960.31
-60.7
-2.01%
355.16
13.63%
S&P 500
1402.43
-27.72
-1.94%
144.83
11.52%
NYSE Comp
8316.17
-126.99
-1.50%
839.14
11.22%
NYSE MKT

 

2324.06
-28.07
-1.19%
45.72
2.01%
RUS 2000
832.69
-13.33
-1.58%
89.33
12.02%
RUS MICRO
51.21
-0.74
-1.42%
6.56
14.69%
VANG INTL
46.25
0.14
0.30%
5.57
13.69%
CHINA INDEX
4352.42
2.74
0.06%
-177.38
-3.92%
EMERG MKTS
7038.15
79.99
1.15%
1032.84
17.20%
Market Report
I'm an index…just color me red for the week
Every domestic index we follow all closed the week in the red…led by a 2.01% drop in the Nasdaq.
Even the micro-caps gave back about 1.5% last week. We all know why so let's not belabor the point.
China has recovered from its 52-week low…our China Index has gained 13.77% since its 52-week low of 3825.77 on 7/23 and is now showing a small loss of 3.92% YTD.
I'm an index…you can color me green for the year!
With the exception of our China Index, all the other indices we follow are in the green YTD with the NYSE MKT (AMEX) being the low man on the totem pole with gains of 2.01% for the year. The DJIA is sputtering along at 5.90% YTD but our micro-caps are flashing 12% to 14.7% gains…and the Internationals are smoking at 17.20%. Let's see what the markets do today…we could be adding to our gains if the politicos get their act together.
The Dollar showed mixed results
The US Dollar moved down against the Euro (closing at 0.7566 Euros; minus $0.0016 for the week); bonds were up…the 10-year bond gained $0.38 to close at $99.21 and the 30-year bond gained $0.75 to close at $97.30.
Oil prices moved up again
WTI Crude Oil gained $2.14 this week to close at $90.80 on Friday. Still, oil prices were low during the holiday season so consumers did get a little break while traveling to grandma's house.
Does this sound familiar…Gold declines again…off $4.80 this week…to close at $1,654.30
Let's see what direction gold heads when we resolve the "fiscal cliff" issue.
In economic news, initial claims for jobless benefits fell by 12,000 last week to 350,000. The less volatile four-week moving average fell by 11,250 to 356,750. The U.S. unemployment rate is 7.7%.
The Conference Board said its consumer confidence index fell to 65.1 this month from a downwardly revised 71.5 in November. Economists expected a December reading of 70.
Here's the stone-cold reality: Data points this week were a mixed bag, but those reports were glossed over because of the ongoing fiscal cliff drama. Stocks have literally been held hostage by the inability of both parties to come together to craft legislation to avoided the dread fiscal cliff. Policymakers broke for Christmas recess last week with no resolution in hand. President Obama has no plan beyond his initial offering to raise taxes on those earning more than $250,000 per year.
With each passing day this week, it seemed another politician made comments that hammered stocks. And with each passing day, time ran shorter to resolve the fiscal cliff. Congress was in session on Sunday, just one day before the cliff deadline. If a deal, even a small one is not reached, Bush-era tax cuts will expire on January 1, becoming tax hikes, and nearly $110 billion in spending cuts will go into effect next month. Some economists have said that if all $600 billion in fiscal cliff-related spending cuts go into effect, the U.S. economy could enter another recession.
The Bottom Line for Stocks
This week will be another holiday-shortened week with U.S. markets open just a half session today and closed on New Year's Day. These holidays are just reference points, though. All eyes will be on the nation's capitol.
If a cliff resolution is not reached, expect stocks of all market caps to tumble. However, the ensuing tumble could create a buying opportunity for micro-caps in the following sectors: Consumer staples, financial services and biotechnology. If a resolution is reached, then we'll have a belated Santa Claus rally.
Research and Editorial Staff
MicroCap MarkePlace
Mike Casson, Executive Editor