Market Report – August 13, 2012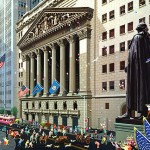 In The Rear View Mirror:
Markets traded choppy this week, with no significant up or down days. A late session rally on Friday saw the S&P 500 close positive for the fifth consecutive week. Speculation remains rampant that central banks around the world are poised to act to buoy the markets, but no specific actions have been undertaken.
Traders continue to look to the Federal Reserve to unveil further stimulus measures at the Jackson Hole symposium later this month.
Earnings Season Wraps Up
Earnings season has largely come to a close this week, with the majority of S&P companies having reported earnings. Roughly two thirds of the companies reporting beat expectations, although the beat is down from last year.
A common trend seen throughout the season has been for companies to exceed expectations on earnings but miss on revenue. This only lends further credence to the notion that the global economy is slowing. Companies may be able to continue to remain profitable through cost-cutting measures and other efforts to boost margins, but with revenues coming in weak, general economic activity may be declining.
Europe continues to remain a problem for US multinationals, as does the strong dollar. One by one notable companies like McDonalds have cited a strong US dollar as well as the global economic slowdown as primary factors limiting their performance.
The Markets @ 8/10/2012
Index
Close
Weekly
% Change
YTD Change
YTD%
DJIA
13207.95
111.78
0.85%
990.39
8.11%
NASDAQ
3020.86
52.96
1.78%
415.71
15.96%
S&P 500
1405.87
14.88
1.07%
148.27
11.79%
NYSE Comp
8044.76
105.21
1.33%
567.73
7.59%
NYSE Amex
2449.12
24.59
1.01%
170.78
7.50%
RUS 2000
801.55
13.06
1.66%
60.63
8.18%
VANG INTL
14.04
0.25
1.81%
0.98
7.50%
USX CHINA
4202.49
280.73
7.16%
-327.31
-7.23%
EMERG MKTS
6448.89
123.31
1.95%
443.58
7.39%
Market Report
The Nasdaq turned in an impressive week…up 1.78% and running the YTD gains up to 15.96%. All other major indices were up as well with the NYSE Composite gaining 105.21 points, or 1.33%.
"The market's unexpectedly strong stock-market returns have come despite a multitude of fears. The list of worries includes the breakup of the euro, the decline of U.S. corporate earnings, Iran's nuclear threat, and a slowdown in China. Even the bickering between presidential candidates has failed to dampen the market's spirits.
"The best market [rallies] occur when doubt is overwhelmingly high," says Brian Belski, chief investment strategist at BMO Capital markets. And "this is the most loathed market recovery in my career." Barron's
The US Dollar strengthened this week against the Euro (closing at 0.8136 Euros, +0.0064); the 10-year bond closed down this week at $99.688 (- $2.000) and the 30-year bond gave back $7.297 to close at $99.984.
Up down, up down…if it was up one week…it's down the next. Of course gold moved up this past week…the sea saw was due to move in the opposite direction which keeps our record in tact
Gold was up $13.70 for this week to close at $1,619.70; staying within the 30-day trading range of 1555 to 1625.
China-based US stocks made a major upward move…Emerging Market Stocks up too
The USX China Index's was up a whopping 7.16% this week cutting the YTD loss in half…it continues to be the only index we follow that is flashing red numbers, but not as ugly as last week.
Our Emerging Market Index gained 1.95% this past week and shows 7.39% gains YTD.
US Election Season Looms Around the Corner
The 2012 presidential election is quickly coming up. With the US poised to go over the "fiscal cliff" this year if Congress cannot enact reform, the November election may be a major catalyst for stocks.
As many market watchers may note, fall is typically a dangerous time for stocks. This trend is frequently broken in election years, when stocks often outperform through September and October.
Still, this year could be vastly different. Despite several Fed governors — such as Boston's Eric Rosengren — suggesting that the Fed ought to do more, additional stimulus might be held off by the election. The Fed acting now could be seen as a political move, something that the institution doesn't need and may try to avoid.
Industrial commodities have seen strength, with WTI crude trading at $93. This may be due in part to supply issues, but a very insightful article on Seeking Alpha offers a detailed and somewhat different perspective…it's the damn Fed again. Click here: http://seekingalpha.com/article/801651-spike-in-oil-prices-on-qe3-expectations-just-say-no
The Bottom Line for Stocks
The investing community continues to be divided on the prospects for stocks. The major indices are pushing near a four and a half year high, but the broad rally still appears to be in doubt. Bearish sentiment remains evident.
Of course, this skepticism of stocks might be justified to the extent that downside risks continue to be very real. Chinese export data came in worse than expected this week and auto sales were weak; the world's second largest economy continues to struggle and won't be able to prop up the rest of the world.
There is some tinge of risk appetite creeping back into the market. Five consecutive up weeks certainly attests to that fact and we think this bodes well for micro-caps. With large-cap mining and energy issues showing legitimate signs of life, those sectors hold promise at the micro-cap level as well.
Emerging markets are also showing some signs of awakening from a lengthy slumber and to that end we would favor micro-caps with developing market exposure. Quest Water Global, Inc. (OTCBB: QWTR), is one microcap name we recently covered; if you haven't read our analysis, click here: http://microcapmarketplace.com/2012/07/31/quest-water-global-inc-otcbb-qwtr/
Considering adding Quest Water Global to your small cap portfolio on pull backs and keep a close eye on an early upward movement to the $1.50 – $2.00 range. QWTR has the potential to run much higher and could be a big winner for us…time will tell, but the signs are all there.
The Company just launched their new website; click here for the latest company information, including two very interesting videos: http://www.questwatersolutions.com/
Research and Editorial Staff
MicroCap MarkePlace
Follow us on Twitter