Market Report – July 16, 2012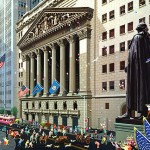 In The Rear View Mirror:
Friday the 13th proved to be Mr. Market's lucky day as U.S. equities surged on the back of some decent earnings reports from marquee bank stocks and increased speculation China will move step up its efforts to bolster the world's second-largest economy.
With Friday gains of ~1.5+% for both the S&P 500 and the Dow Jones Industrial Average, U.S. stocks were able to erase weekly losses and snap a multi-day losing streak in the process.
That's the good news.
The bad news is that economic data remains unimpressive. In economic news, the Thomson Reuters/University of Michigan's preliminary reading on consumer sentiment fell to 72 from 73.2 last month. Economists expected a reading of 73.4. The preliminary July reading was the lowest since December 2011.
The Labor Department said producer prices rose 0.1% in June. Economists expected a decrease of half a percent. The consumer sentiment data is especially troubling because it indicates Americans are not feeling too cheery about their personal finances and job prospects.
On Thursday, the jobless claims number looked excellent on the surface, but many experts opined that was primarily due to seasonal factors and that claims will rise in the coming weeks.
Is Mickey and Goofy in our future???
This sounds like a recipe for the summertime blues…and investors can do one of several things:
Take the summer off and go to Disney World…or…
Keep an eye open for microcap bargains that will surely pop up from week to week. We favor the latter and will be looking for those opportunities.
The Markets @ 7/13/2012
 
Index
Close
Weekly
% Change
YTD Change
YTD%
DJIA
12777.09
4.62
0.04%
559.53
4.58%
NASDAQ
2908.47
-28.86
-0.98%
303.32
11.64%
S&P 500
1356.78
2.1
0.16%
99.18
7.89%
NYSE Comp
7758.68
2.06
0.03%
281.65
3.77%
NYSE Amex
2373.37
4.97
0.21%
95.03
4.17%
RUS 2000
800.99
-6.15
-0.76%
60.07
8.11%
VANG INTL
13.38
-0.05
-0.37%
0.32
2.45%
USX CHINA
4155.04
-169.76
-3.93%
-374.76
-8.27%
EMERG MKTS
6174.83
-81.02
-1.30%
169.52
2.82%
Market Report
Friday snapped a six day losing streak
Led by the Dow, Nasdaq and the NYSE which gained 1.62%, 1.48% and 1.57% respectively, the markets for the most part, recovered lost ground. The Dow had given up 370 points or 2.9% over the six day backwards run and had the market nervous about a full blown retreat. The market was wrong as usual but there was a continued retreat to safer assets.
The US Dollar rose $0.0024 against the Euro (closing at 0.8163); the price of treasuries continued their rise…pushing yields down a bit more….the 10-year bond closed at $102.391 (up $0.578) while the 30-year bond was up $1.906 to close at $108.844.
WTI Crude Oil reversed a slight slide to move up $2.65 for the week…closing at $87.10 a barrel.
The gold sea saw is making us seasick
Gold was up $13.20 for this week to close at $1,591.60; but that's still below the $1600 support level.
The major loser this week was China…the USX China Index gave back a whopping 3.93% and is off 8.27% YTD…the only index we follow that is flashing big red numbers. In fact…the USX China Index was down 34% on Thursday (when it hit a low of 4076.17) from it 52 week high of 6197.18 on July 26, 2011.
Banks led the recovery
For the most part, earnings news has been bad to say the least and mediocre at the very best. That is why it was significant to see some major bank names chip in with some good news on Friday.
Shares of Wells Fargo (NYSE: WFC) soared after the California-based bank said its second-quarter profit rose 17% to $4.6 billion, or 82 cents a share, compared with $3.9 billion, or 70 cents a share, a year earlier. Revenue rose to $21.3 billion from $20.4 billion. Analysts expected a profit of 81 cents a share.
Dow component J.P. Morgan Chase (NYSE: JPM) rallied 6% after the bank reported a second-quarter profit of $4.96 billion, or $1.21 a share, compared with $5.43 billion, or $1.27 a share, a year earlier. If not for the losses associated with the trading of complex credit securities that created a firestorm of controversy for the bank, JPMorgan would have earned $1.90 a share. The bank said traders may have intentionally hid $5.8 billion in losses.
The Bottom Line for Stocks
As we mentioned last week, earnings season could be tough for large-caps. Fortunately, that prediction was proven wrong on Friday for selected names…but we're not totally out of the woods yet.
This week we'll see reports from International Business Machines Corporation: (NYSE:IBM), Bank of America Corporation (NYSE: BAC), Coca-Cola Company (NYSE: KO) and Johnson & Johnson (NYSE: JNJ).
And with the big boys…here's a key issue that will affect the market's mood. As was reported by 24/7 Wall St. Wire, IBM is the one DJIA component that has crept higher and higher each quarter. It is also the top DJIA component because of the price-weighting issue on the index. They show IBM as being about 10.6% of the entire DJIA, so its report can single-handedly move the index more than any even if the rest of the components are mostly unchanged.
Micro-caps hanging tough
What's even better is that micro-caps remain sturdy in a tricky market setting, indicating that should we see a legitimate return to the risk on trade and a more sanguine environment; this asset class will soar.
In the last two weeks, the Wilshire Micro-Cap ETF (NYSE: WMCR) added 2.5%; even though it was off .76% for the week, on Friday the Russell 2000 Index (RUT) popped up 1.44%; and the iShares Russell Micro-Cap Index ETF (NYSE: IWC) is up 13.9% YTD. All good signs for the microcap community.
Some of the micro-cap miners look a little tired, but opportunities are abound with health care (biotechnology and medical device) names along with select micro-cap banks.
Speaking of medical device companies…if you missed our June 20th report on CytoSorbents (OTCBB: CTSO)…you can read it here: http://microcapmarketplace.com/2012/06/20/cytosorbents-the-next-great-medical-device-growth-story-i-say-yes/
Plus, we direct your attention to BofI Holding, Inc. (Nasdaq: BOFI), a microcap bank stock which is up 5.4% since we posted our blog report on June 25th and 24.4% YTD: http://microcapmarketplace.com/2012/06/25/bofione-microcap-stock-to-bank-on/
Research and Editorial Staff
MicroCap MarkePlace
Follow us on Twitter