Market Report – July 2, 2012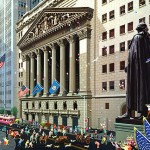 In The Rear View Mirror:
With the benefit of a Europe-induced rally, U.S. equities surged on the final trading day of June. European policymakers finally did the world a good turn and gave the bulls reason to get back into action. And our June energy pick delivered as expected…up 39.3%.
The news of the day: European Union nations have told Germany, the Eurozone's largest economy, to get with program and support a package that will help Spain's ailing banking system. Help could also be on the way for Italy, the Eurozone's third-largest economy, if need be.
The S&P 500 gained 2.5% to finish the week, wrapping up what was its best June performance since 2009. The Dow Jones Industrial Average added 2.2% while the Nasdaq surged 3%. All three closed higher for the month of June, but in a stark reminder as to how bad things were in April and May, U.S. stocks turned in a negative performance during the second quarter.
There might be reasons to consider beaten down energy names, including micro-caps. Oil futures surged Friday, posting their fourth-best one day performance on record. The European Union commences an embargo on Iranian imports on Sunday and that could boost crude futures in the near-term.
The Markets @ 6/29/2012
Index
Close
Weekly
% Change
YTD Change
YTD%
DJIA
12880.78
239.31
1.89%
662.53
5.42%
NASDAQ
2935.05
42.63
1.47%
329.9
12.66%
S&P 500
1362.16
27.14
2.03%
104.56
8.31%
NYSE Comp
7801.84
185.25
2.43%
324.81
4.34%
NYSE Amex
2327.89
48.57
2.13%
49.55
2.17%
RUS 2000
798.49
23.33
3.01%
57.57
7.77%
VANG INTL
13.53
0.38
2.89%
0.47
3.60%
USX CHINA
4347.4
24.99
0.58%
-182.4
-4.03%
EMERG MKTS
6185.95
87.16
1.43%
180.64
3.01%
Market Report
Friday's rally was further proof that global markets remain held hostage to news flow out of Europe. This is especially true when you consider the glum U.S. economic data points that emerged Thursday and Friday.
On Thursday, new claims for jobless benefits fell to 386,000 last week from 392,00 in the previous week. Economists expected a reading of 385,000 new claims. The Commerce Department said its final reading of U.S. first-quarter GDP showed growth of 1.9%. That was inline with what economists expected.
On Friday, the Commerce Department said consumer spending was flat in May and the April reading was revised lower to a gain of just 0.1% after an initial reading that showed an increase of 0.3%. Personal incomes rose 0.2%, matching economists' expectations.
The Thomson Reuters/University of Michigan final reading of June consumer sentiment dropped to 73.2 from 79.3 last month. The June reading is the lowest since December 2011. Economists expected a reading of 74.1. The Chicago PMI jumped to 52.9% in June from 52.7% last month. Economists expected a June reading of 53%.
Bad news may not have sunk in
That is a lot of bad/mediocre new from the world's largest economy for investors to digest. Thing is, those data points weren't really efficiently digested this week, indicating that some profit-taking could be in the offing early next week.
Friday turned this week round
We don't need to belabor the point, but Friday turned in some strong green numbers across the board…plus, our small cap benchmark Russell 2000 gained 3% and is approaching 8% gains YTD.
Crude Oil, Gold and Bonds all reversed direction
WTI Crude Oil moved strongly above the $80 support level to close at $$84.96…up $5.20 for the week. We might have to wait a bit longer for lower prices, even as the Saudis keep pumping.
OK…Gold is on the sea saw and popped up above $1,600…up $37.50 for the week to close at $1,603.50.
The 10-year bond reversed direction…gaining $0.25, to close at $100.938, and the 30-year bond was up as well; -$0.187 to close at $105.000.
The US dollar slipped again this week, off $0.0057 to close at 0.7898 Euros… EUR/USD = 1.26.
The Bottom Line for Stocks
Friday was just one day, but the action does indicate the market wants to move higher. It merely needs catalysts to do so. A catalyst does exist in the form of earnings season, which is on the cusp of kicking into high gear. However, the marquee reports have been disappointing with many pointing to slowing global growth.
There is good news and it exists on three fronts for micro-cap investors:
First, energy stocks are dramatically undervalued at current levels. We're tracking several more but wanted to recap our pick on June 11. We stated…
"40% Upside
"The good news is that Penn Virginia (NYSE: PVA) currently trades slightly above $5, (bouncing nicely off a 52-week low of $3.92 on 4/10) and the average analyst price target is almost $7, implying an upside of almost 40% from current levels.
"Stifel Nicolaus upgraded Penn Virginia to "buy" from "hold" with a $7 price target recently." You can read the full report here: http://microcapmarketplace.com/2012/06/11/microcap-running-away-from-gas-to-oil-in-next-great-texas-boom/
Now for the really good news…PVA closed on Friday at $7.34…up $2.07 or 39.3% from the $5.27 closing price on 6/11. That's a very nice three week gain. Here are three actions to consider: Protect your gains with a stop loss, or take your profits or buy more on pull backs. It depends on your objectives and risk tolerance.
Second, miners perked up late in the week and still look healthy. Here's one that we continue to follow and with the recent pull back looks very inviting. To read about American Manganese (TSX: AMY.V; OTC: AMYZF) click on this link: http://microcapmarketplace.com/2012/05/01/american-manganese-tsxamy-votcamyzf/
Finally, biotech stocks have almost no correlation to Europe and that means the sector remains among our favorites for finding winning micro-cap trades… if you haven't yet read our coverage on CytoSorbents (OTCBB: CTSO), a critical-care focused therapeutic device company using blood purification technology to treat life-threatening illnesses….primarily those in the ICU…here's that link: http://microcapmarketplace.com/2012/06/20/cytosorbents-the-next-great-medical-device-growth-story-i-say-yes/
Research and Editorial Staff
MicroCap MarkePlace
Follow us on Twitter