Market Report – June 25, 2012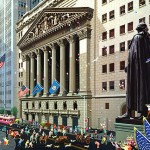 In The Rear View Mirror:
A Facebook reminder for most investors and what an epic amount of headline risk does to the market. U.S. stocks were mainly lower on the week with most of the damage coming on Thursday. The fourth day of the trading week proved to be the worst week in three for U.S. equities and the second-worst one-day performance of the year for the S&P 500.
Stocks were able to muster some signs of strength on Friday, but not nearly enough to put a major dent in Thursday's losses. For the week, the Dow lost 0.9 percent and the S&P 500 fell 0.6 percent, but the Nasdaq was up 0.7 percent, according to Reuters data.
Banks help lead the way
Mr. Market does deserve some credit for clawing higher to close the week. Thursday after the closing bell sounded, Moody's Investors Service lowered the credit ratings of 15 major global banks. Believe it or not, financials were a leadership on Friday.
However, the Moody's report underscores the notion that big bank stocks are still big risks for investors. To be sure, there are a number of micro-cap bank stocks with far greater potential for capital appreciation than the financial services names investors are most familiar with.
The Markets @ 6/22/2012
Index
Close
Weekly
% Change
YTD Change
YTD%
DJIA
12640.78
-126.39
-0.99%
432.22
3.46%
NASDAQ
2892.42
19.62
0.68%
287.27
11.03%
S&P 500
1335.02
-7.82
-0.58%
77.42
6.16%
NYSE Comp
7616.59
-47.68
-0.62%
139.56
1.87%
NYSE Amex
2279.32
-9.22
-0.40%
0.98
0.04%
RUS 2000
775.16
3.84
0.50%
34.24
4.62%
VANG INTL
13.15
-0.02
-015%
0.09
0.69%
USX CHINA
4322.41
-111.46
-2.51%
-207.39
-4.58%
EMERG MKTS
6098.79
-15.89
-0.26%
93.48
1.56%
Market Report
In recent weeks, the primary culprit of market weakness has been Europe. Whether it has been Greece, Spain or one of the financially erstwhile Euro Zone states, it has been easy to blame any market weakness on our friends across the Atlantic.
Things were different in the just-completed week and not different in a good way. Basically every U.S. economic data point release indicates the U.S. economy is fragile and slowing.
In economic news, the National Association of Realtors said existing home sales fell 1.5% in May to a seasonally adjusted annual rate of 4.55 million. That's well below the rate of 6 million economists say is needed to consider the housing market healthy.
Economic News is Weak and Getting Weaker
Initial claims for jobless benefits fell by 2,000 to 387,000 last week, but that's still above the 385,000 new claims economists expected. The less volatile four-week moving average jumped by 3,500 to 386,250, the highest level in seven months.
The Philadelphia Federal Reserve Bank said its business outlook survey fell to -16.6 from -5.8 in May. The June reading is the lowest level in 10 months. Economists expected a June reading of zero.
And those were just the data points released on Thursday. Next week features a heavy economic calendar, including the final revision to the first-quarter GDP number.
Nasdaq and Small Caps Only Green Numbers This Week
Nasdaq continued its upward movement, slipping above 11% YTD with a 0.68% gain for the week; the Russell 2000 gained half a point, up 0.50% to close the week at +4.62% YTD. And that was it.
Blame it on Facebook
The other Majors plus China, the Internationals and Emerging Markets…were in the tank!
The weakening economy and the botched Facebook IPO continue to cast a pall on the markets. Will Deener, Dallas Morning News reported that not a single company has priced an IPO this month.
Facebook shares are down about 13% (close of market 6/22) from their IPO price of $38, and federal regulators are continuing their investigation of WHAT HAPPENED?
The SEC, FINRA, and Rep. Darrell Issa (R-Calif.) Chairman of the House Committee on Oversight and Government Reform are all looking into the recent debacle. No one seems to be buying Nasdaq's "our computers broke down BS," or the NYSE's "it was a communications breakdown." Congress and the SEC want answers and they want them soon.
After all…it is an election year and we have to protect "the Peoples."
The bottom line is the peoples shouldn't be in a hyped-up IPO to begin with…stay out of the big boys' way. Joe and Sally Six Pack have no chance in that rigged game. That's why we keep preaching about micro caps. You have a better chance of outsized gains than large institutional investors…for a multitude of reasons. But that's a story for another day.
Crude Oil, Gold, U.S. Dollar and Bonds all went south for the week
WTI Crude Oil dropped $4.27 this week to close below 80 bucks at $79.76…that is below the critical support level of $80. Look out Loretta!!! John Kilduff of Again Capital said if oil sinks through $78, the next level he is watching is $72 per barrel for WTI. (cnbc.com)
Oil prices are lower and could be going lower…here's why: the Saudis are pumping like crazy; we've seen a significant increase in supply for the U.S. (thanks to North Dakota and Texas) plus bad economic news and generally weaker demand.
This could be good news and here's why…lower oil prices mean lower gasoline prices and lower gasoline prices mean more money your pocket and mine.
Gold blew thru the $1,600 level…only it was in the wrong direction. Down $61.00; closing at $1,566.00.
The US dollar slipped modestly, off $0.0041 to close at 0.7955 Euros… EUR/USD = 1.26.
Here's a familiar story…the 10-year bond was off again this week…losing $0.875, closing at $100.688, and the 30-year bond gave more back this week; -$1.656 to close at $104.813.
The Bottom Line for Stocks
In an environment where "slowing growth" is the buzz phrase du jour and investors are shunning risk, selective is the order of the day when it comes micro-cap sector identification.
It may sound like heresy, but with the Moody's downgrades out in the open and the ensuing reaction far better than many imagined, there are opportunities to be had with micro-cap bank stocks.
BofI (NASDAQ: BOFI), the holding company for BofI Federal Bank, a $2 billion, nation-wide, branchless bank, is a stock we recently started following and will detail here on MicroCapMarketplace in a separate post.
Also…on the basis that biotech issues have displayed little to no correlation to Europe, we reiterated our bullish view of that sector as well. If you haven't already, then please read our post this past week about CytoSorbents (OTCBB: CTSO), a critical-care focused therapeutic device company using blood purification technology to treat life-threatening illnesses….primarily those in the ICU. Here's that link: http://microcapmarketplace.com/2012/06/20/cytosorbents-the-next-great-medical-device-growth-story-i-say-yes/
Research and Editorial Staff
MicroCap MarkePlace
Follow us on Twitter