Market Report – May 21, 2012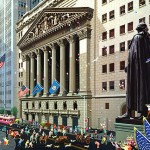 In The Rear View Mirror: Let's just get straight to the hit parade. The Dow Jones Industrial Average has fallen for 12 of the past 13 sessions. The U.S. dollar is on fire. Oil fell for the sixth consecutive day Friday and the three-week loss for crude is its worst run since August of 2011. European stocks endured their worst weekly performance since September 2011. The S&P 500 shed 4.3% on the week, notching its worst weekly run of 2012 while peaking below 1,300 for the first time in four months.
Risk Off for now
Yes, this is a risk off environment and thanks to Europe things could get worse before they get better. In the just completed week, Moody's Investors Service downgraded the ratings of 16 Spanish banks while Fitch Ratings pared Greece's credit rating by one notch. In the case of Greece, another downgrade isn't surprising as the country long ago entered junk territory.
What makes matters particularly concerning regarding Europe is that traders and policymakers on the other side of the Atlantic are growing accustomed to the notion that Greece will be out of the Euro Zone and that departure could happen before the end of the year. On top of that, Spain, the Euro Zone's fourth-largest economy, is widely viewed as the next potential shoe to drop.
The Markets @ 5/18/2012
Index
Close
Weekly
% Change
YTD Change
YTD%
DJIA
12369.38
-451.22
-3.52%
151.82
1.24%
NASDAQ
2778.79
-155.03
-5.28%
173.64
6.67%
S&P 500
1295.22
-58.17
-4.30%
37.62
2.99%
NYSE Comp
7427.74
-388.15
-4.97%
-49.29
-0.66%
NYSE Amex
2209.54
-118.8
-5.10%
-68.8
-3.02%
RUS 2000
747.21
-42.85
-5.42%
6.29
0.85%
VANG INTL
12.83
-0.82
-6.01%
-0.23
-1.76%
USX CHINA
4404.07
-301.13
-6.4%
-125.73
-2.78%
EMERG MKTS
5976.8
-399.66
-6.27%
-28.51
-0.47%
Market Report
The S&P 500 has lost 7.3% this month and several major asset classes, including emerging markets stocks and some commodities, have seen their 2012 gains turn into losses. Traders and investors had become so desperate for good news that the hopes for any sign of positivity were tied to the Facebook (NYSE: FB) IPO, which turned out to be a major dud.
Facebook raised $16 billion and closed the day with market cap of almost $105 billion, making it more valuable on that basis than half of the companies in the Dow Jones Industrial Average, but gained only 23 cents in its first day of trading and heads into its first full week as a public company looking just as vulnerable as any other stock out there, maybe even more so because of all the unwarranted hype surrounding the IPO.
The Facebook IPO did little to lift the fortunes of the Nasdaq, which plunged 5.3% on the week.
Do we have to repeat this again…it's…"Slip Sliding Away"
Every index was bleeding red for the THIRD week in a row.
Of the majors, Nasdaq led the downward movement this week…losing 5.28%, but still hanging onto a 6.67% gain YTD.
The Dow is barely in green numbers YTD with a measly 1.24% gain. The S&P 500 is at 2.99% for the year after dropping 4.30% this past week. Those are ugly numbers.
The Russell 2000 coughed up 5.42% this week and sits just under a 1% gain for the year… the China sector dropped 6.40% last week which with its 4.07% loss the preceding week has given back 10½ percent in the past fourteen days…erasing all of its gains for the year. The Vanguard International and Emerging Markets were in the same sinking boat…down 6.01% and 6.27% respectively for the week, leaving all three emerging market and international bench marks in the red YTD.
Emerging-market stock funds posted their biggest weekly redemption in five months as Greece's political stalemate and concern China's economy may slow more than forecast weighed on investors, according to EPFR Global. Developing-nation equity funds posted net outflows for the week ended May 16 of $2.24 billion, according to a report by the Cambridge, Massachusetts-based data provider. Reported by Bloomberg
Crude Oil down…Gold up
WTI Crude Oil lost $4.65 to close at $91.48…while gold advanced $8.00 to close the week at $1,591.60.
The US dollar gained 0.0081, closing at 0.7822 Euros… EUR/USD = 1.28.
The 10-year bond moved back above the 100 dollar level, gaining $1.062 to close at $100.250, and the 30-year bond jumped $4.078 to also close the week above the 100 dollar level at $103.875.
The Bottom Line for Stocks:
Sell in May and go away has gripped the market and with the Europe situation deteriorating by the day, it's hard to justify embracing excessive risk at this point. Although the statistical declines over the past week for the major U.S. indexes could lead one to say stocks are oversold, most technical indicators don't indicate as much. In other words, prepare for more downside in the near-term.
If there is any good news it is that plenty of solid, OTCBB and Nasdaq-listed micro-caps with sound fundamentals and legitimate growth prospects have not been put on sale due to the broader market calamity. We reiterate a conservative posture and a preference for the health care and staples groups, though there are a growing number of opportunities in financial services and technology.
Research and Editorial Staff
MicroCap MarkePlace