Market Report – May 14, 2012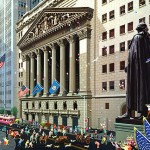 In The Rear View Mirror: It was more of the same and a little something to explain why all three major U.S. indexes closed lower on the week. Stocks and other riskier assets started the week looking as though they were just fine with the events that transpired last weekend in Europe. That sanguine atmosphere didn't last long.
Euro Zone Breaking up???
By Tuesday, traders had gotten back to the business of fretting about what the future holds for the Euro Zone and the outlook is bleak to say the least. Ask most traders on either side of the Atlantic and it appears all but certain that Greece will be departing. That dire, but necessary scenario is talked about in "when, not if" terms. Problem is Greece could be just the first domino departing the ill-conceived euro. Spain, a much larger economy, has ebbed to the forefront as the next likely Euro Zone departure following Greece.
When the closing bell sounded on Friday, stocks had fallen for the second consecutive week while the euro was found resting near lows not seen since January. Gold and West Texas Intermediate crude oil have fallen in seven of the past eight trading sessions. What does that mean? Suddenly, the U.S. dollar looks pretty good.
The Markets @ 5/11/2012
Index
Close
Weekly
% Change
YTD Change
YTD%
DJIA
12820.6
-217.67
-1.67%
603.04
4.94%
NASDAQ
2933.82
-22.52
-0.76%
328.67
12.62%
S&P 500
1353.39
-15.71
-1.15%
95.79
7.62%
NYSE Comp
7815.89
-117.41
-1.48%
338.86
4.53%
NYSE Amex
2328.34
-62.4
-2.61%
50
2.19%
RUS 2000
790.06
-1.78
-0.22%
49.14
6.63%
VANG INTL
13.65
-0.34
-2.43%
0.59
4.52%
USX CHINA
4705.2
-199.48
-4.07%
175.4
3.87%
EMERG MKTS
6376.46
-225.07
-3.41%
371.15
6.18%
Market Report
Two weeks ago, we said the market was reacting mostly to earnings. Last week, we said it was all about data points. For the just completed week, it was a mix of data and headline risk. In economic news, the Labor Department said initial jobless claims fell by 1,000 to 367,000 to last week. Economists expected a reading of 368,000.
On Friday, the Thomson Reuters/University of Michigan's preliminary May reading of consumer sentiment jumped to 77.8 from 76.4 in April. That's the highest level since January and well above the reading of 76.2 economists expected.
J.P. Morgan Chase (NYSE: JPM), the largest U.S. bank by assets, plunged after the company reported a $2 billion trading loss tied to risky credit derivatives securities. CEO Jamie Dimon said the losses could rise by up to $1 billion.
Credit trader Bruno Iksil allegedly amassed such large positions that rival hedge funds began betting against the J.P. Morgan trades, knowing the bank's trades were so large that if unwound, those trades would upset credit markets. Dimon said some J.P. Morgan staffers could lose their jobs over the loss.
"Slip Sliding Away" – to quote, Simon and Garfunkel
Totally across the board…every index was bleeding red for the second week in a row.
Of the majors, the Dow gave back the most…losing 1.67% for the week, and hanging onto a 4.95% gain YTD.
The Nasdaq slowed its descent somewhat, losing only 0.76% this week as compared to closing down 3.68% "for the week preceding!" Nasdaq is still showing a 12.62% gain YTD, but losing ground too fast for our comfort.
On the small cap front…the Russell 2000 only lost 0.22% this week and still sits just under a 7% gain for the year…all in all, at least for now, the small-cap stocks are hanging in there.
The China sector dropped 4.07% in one week and is still in positive territory for the year, but in local vernacular…"leaking oil badly." Following close behind is the Vanguard International…down 2.43% for the week and dropping below 5% YTD gains which is not a good sign for emerging markets.
"It's been a rough month and a half for emerging-market equities and a lot of that has to do with continued concerns out of Europe and slower-paced economic data out of the U.S. and the emerging-market world," said Tim Hall, who manages about $700 million at Deltec Asset Management. "Then you have the JPMorgan incident and that's a wet rag on an already pessimistic market." Bloomberg
Gold and Oil moving together…and for two weeks in a row…that would be down
Gold closed at $1,583.60 down $61.10 for the week, while WTI Crude Oil lost $2.36 to close at $96.13.
The US dollar responded by gaining 0.0098, closing at 0.7741 Euros… EUR/USD = 1.29.
The 10-year bond slipped below the 100 dollar level, losing $1.875 to close at $99.188, and the 30-year bond lost $1.250 to also close the week under the 100 dollar level at $99.797.
The Bottom Line for Stocks
We're not going out on a limb by saying this and we acknowledge as much: Expect more volatility next week and probably for the foreseeable future. The unfortunate reality is that global markets are into year three of dealing with the same problems from Europe and Europe is back to square one in terms of solving them.
To that end, we reiterate the view that now is the time to be selective with lower beta micro-caps such as health care and staples names. If headline risk diminishes, something we're not betting on in the near-term, discretionary and energy micro-caps would return to the top of our list.
Research and Editorial Staff
MicroCap MarkePlace