Market Report – April 30, 2012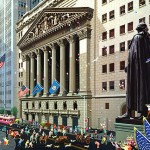 In The Rear View Mirror: U.S. stocks rallied for the week as news flow out of Europe was fairly quiet (for once) and traders focused more on marquee earnings reports than mediocre economic data, running equities higher in the process. Roughly a third of the S&P 500 companies reported earnings during the just completed week and the trend of 75%-80% of those companies reporting beating estimates remained intact.
Strong earnings reports
Growth in S&P 500 earnings rose to 7.2% this week from 3.2% at the start of the month, according to Thomson Reuters data. The S&P 500 gained nearly 3% on the week while the gains for the Dow Jones Industrial Average, which saw several of its more noteworthy constituents report first-quarter results, were enough to erase the April losses for the blue chip index and bring the Dow slightly into positive territory for the month.
Weak economic data
Indeed, it is encouraging traders are focusing on earnings reports, but there were a couple of not-so-hot economic data points out this week. In economic news, the Labor Department said weekly jobless claims fell by 1,000 last week to 388,000, but that was well above the 375,000 claims economists expected. That was not an impressive number at all. On Friday, Commerce Department said U.S. GDP grew by 2.2% in the first quarter down from 3% growth in the fourth quarter. Economists expected a first quarter reading of 2.6%.
The Markets @ 4/27/2012
Index
Close
Weekly
% Change
YTD Change
YTD%
DJIA
13228.31
199.05
1.53%
1010.75
8.27%
NASDAQ
3069.2
68.75
2.29%
464.05
17.81%
S&P 500
1403.36
24.83
1.80%
145.76
11.59%
NYSE Comp
8151.91
126.38
1.57%
674.88
9.03%
NYSE Amex
2434.87
17.39
0.72%
156.53
6.87%
RUS 2000
825.47
21.42
2.66%
84.55
11.41%
VANG INTL
14.41
0.13
0.91%
1.35
10.34%
USX CHINA
5003.5
15.57
0.31%
473.7
10.46%
EMERG MKTS
6713.2
-44.61
-0.66%
707.89
11.79%
Market Report
It really was all about earnings this week, particularly from the two "A's," which we'll divulge in a minute, but here's a hint: The Nasdaq posted its best weekly gain since February because…
…On Tuesday, Apple (Nasdaq: AAPL), the world's biggest publicly-traded company by market capitalization, posted a fiscal second-quarter profit of $11.6 billion on sales of $39.2 billion, results that easily thrashed Wall Street estimates once again. Apple blew away sales estimates for the iPhone and iPad, again reminding investors and analyst that betting against this stock is foolish to say the least.
On Thursday, e-commerce giant Amazon (Nasdaq: AMZN) reported net income of $130 million or $0.28 per share, compared to $201 million or $0.44 per share, in the same period from a year ago…crushing the seven cents Wall Street expected. Net sales for the quarter were up 34% to $13.19 versus $9.86 billion in the comparable period. Amazon's guidance was dicey to say the least, but the shares still surged 16%.
A solid week for the Dow was impressive considering that Exxon Mobil (NYSE: XOM) and Chevron (NYSE: CVX) really didn't do much to excite on the earnings front and Caterpillar (NYSE: CAT) was a drag due to slack guidance. However, Boeing (NYSE: BA) stepped up with excellent guidance and that helped lead a charge into cyclical stocks.
All Major Indexes were "Blowing and Going"
The Nasdaq did an about face and came roaring back with a 2.29% gain for the week…closing at 3069.20; and flashing a gaudy 17.81% gain for the year. The Dow also turned in a nice weekly performance…up 199 points (+1.53%), and moved the YTD gain up to 8.27%.
The S&P 500 was solidly up 1.80% for the week and is showing a nice 11.59% gain YTD.
All of our other weekly bench marks were in green numbers except for Emerging Markets which slipped by 0.66% and moved the YTD gains number back under 12%.
Gold and Oil moved in the same direction this week
Gold gained $21.90 for the week…closing at $1,664.00 while WTI Crude Oil rose $1.88 to close at $104.93.
The US dollar lost 0.0018, closing at 0.7544 Euros…or as some like to see it… EUR/USD = 1.325.
The 10-year bond continued its upward trend… +$0.250 to close at $100.563, and the 30-year bond gained $0.047 to close the week at $100.047.
The Bottom Line for Stocks:
The upcoming April jobs report next Friday could go a long way toward determining the market's near-term fortunes.
Also, earnings season is drawing to a close and the month of May will start next week, perhaps bringing with it the start of another "Sell in May and go away." That said, if cyclical, energy and technology names can prop up this mini-rally, it would be constructive for the bears and also mark an invitation to nibble at high-quality micro-cap issues.
Research and Editorial Staff
MicroCap MarkePlace