Want to Play the Mobile App Boom? There's a Stock for That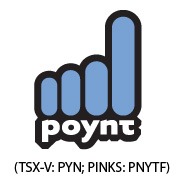 Thanks to those ubiquitous commercials courtesy of Apple (Nasdaq: AAPL), the slogan "There's an app for that" is now ubiquitous in its own right. For the tens of millions of mobile phone users across the world that own smartphones they know that part of the allure of owning a product like the iPhone or the BlackBerry is the apps.
At this point it's fair to say most folks know that apps are fun and useful. Some even help with important tasks in everyday life which is more than can be said of a high school geometry class, but with the mobile app craze booming in a major way, investors want to know how they can profit from this craze. The answer is simple, but undiscovered. With Poynt Corp. (TSX.V: PYN; OTCQX: PNYTF), a Canadian app developer that is also listed on the Toronto Venture Exchange under the ticker "PYN."
86% Gain Catches Investors' Eye
As we previously noted, Poynt shares actually notched a stellar performance in 2011. Sure, investors could have won with Apple or Google (Nasdaq: GOOG). Or they could have been left pulling their hair out with other smartphone plays such as Nokia (NYSE: NOK) and Research In Motion (Nasdaq: RIMM). The bottom line is shares of Poynt gained 86% in a year when the broader U.S. equity market was topsy-turvy and finished with a small loss.
Still, the question remains for some investors: "Why invest in the mobile app market?" Again, the answer is quite simple and it's supportive of the bull case for a company like Poynt. Consider the following: Nine billion mobile apps were downloaded in 2010. Sounds like a lot, right? Yes, but no. That number is expected to surge to 29 billion by the end of 2011 when the final numbers are reported.
Mobile Phone Apps Ramping Up Usage Numbers
Add to that, Gartner estimates that mobile apps will account for $16 billion in user spending in 2012. A recent report by GetJar notes that more than a third smartphone users use their apps for more than an hour per day and nearly 60% use their apps at least once a day. Said differently, there are millions of opportunities everyday for Poynt's mobile application to get in front of users and that means millions of chances to increase the bottom line.
But for some reason, when the conversation about investing in the mobile app market starts, it always leads to the usual suspects and that doesn't include Poynt. That could prove to be an advantage for the stock going forward because when everyone and his sister is bullish on the same investment theme, the masses usually prove to be wrong.
On the other hand, Poynt's hidden gem status probably played a big part in its impressive run higher in 2011 and it could easily work in the company's favor again in 2012. No, past returns aren't an indicator of future performance, but the statistics regarding app usage bode well for Poynt enjoying another stellar year in 2012.
The Bottom Line for PYN
The bottom line is Poynt is in the right place at the right time when it comes to the smartphone boom. Perhaps it's time to dial up the shares. PYN made an 11.5% move on 2/3 closing at $0.145 on big, and I do mean big volume…the 10 moving average was around 800,000 shares and Friday saw 8.5 million shares trade on the Venture Exchange. The 52 week high is about $0.28 so this baby could double from here in short order.
Posted by Micro Trader