One Need-to-Know Chinese Small-Cap for 2012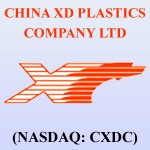 Emerging Markets Carnage! That's at least one way to describe the landscape investors faced when it came to Chinese stocks in 2011. And that's just the large-caps. Broadly speaking, the small-caps were a mess unto themselves, attracting controversy at nearly every turn. Muckraking financial journalists and eager short-sellers unearthed new problems at a spate of small, publicly traded Chinese companies, bringing more controversy and criticism to a market that could ill afford it.
Is the worst behind us?
With the calendar turned to a new year, investors may be asking themselves "Have the darkest clouds passed Chinese small caps?" Only time will tell if the answer to that question is yes, but the reality is the goings on in 2011 underscore the fact for separating the men from the boys when it comes to small-caps, and that goes for low market cap stocks from ANY country, not just China.
One of the men of the Chinese small-cap group is certainly China XD Plastics Co. (Nasdaq: CXDC). The company develops, manufactures, and sells modified plastics, primarily for automotive applications and customers include major automakers such as Audi, BMW, Toyota, Buick, Mazda, VW, and Hafei new energy vehicles.
And to say China XD Plastics has outperformed the China small-cap peer group in the past year is a gross understatement. While some Chinese small-caps are fighting off the media, regulators and short- sellers and others are dealing with being delisted from U.S. exchanges, China XD plastics has actually managed to perform quite well, all things considered. When factoring in the first few trading days of 2012, the stock is actually higher in the past year. Good luck finding many Chinese companies with a market value below $300 million that can say that.
A 38.3% gain rewards $100 million investor
As we mentioned earlier, many investors are probably wondering if this is the year China-based small-cap issues rebound. Well, we haven't had to wait long to see if the answer is yes with China XD Plastics. Through the first four trading days of 2012, the shares are up almost 6.4%, far outpacing what the S&P 500, Nasdaq and Dow Jones Industrial Average have done for investors. Not to mention, China XD is up almost 11% in the past month and nearly 39% in the past quarter.
Again, those are stellar returns from just about any stock, but getting alpha like that from a Chinese small-cap in this market environment is nothing short of astounding. Obviously, there's something to the China XD story and there must be a reason why venerable Morgan Stanley invested $100 million in the company last year.
"Strong Buy" recommendation from major analyst
Also worth noting is the fact that China XD makes Zacks Investment Research "Strong Buy" list. "China is risky right now, but China XD Plastics could be worth a look. With estimates on the rise the stock is currently a Zacks #1 Rank," Zacks said.
For those that need more convincing regarding the bull case for China XD in 2012, consider the following:
While Europe appears to be falling to pieces, the U.S. economy has held up better than it has been given credit for and that should lead to more auto purchases this year.
Second, the Chinese economy is still, well, the Chinese economy and that means we're talking about the fastest-growing major economy in the world. So no matter how you slice it, China XD has at least one major catalyst working in its favor in 2012.
Remember, China XD opened a newly developed production facilities in Harbin, China on December 11, 2011. That isn't the type of move a company makes when management is feeling skittish about the business outlook. And don't forget the valuation metrics we previously extolled. The stock trades for less than 3.7 times forward earnings with a PEG ratio of just 0.27%. Not to mention, China XD trades at less than 1x book value and is considered undervalued by some on a levered free cash flow basis.
Technical strengths and significant upside potential
Another positive sign for those that love technical analysis is that stronger volume has been creeping into China XD and the stock ended 2011 by breaking some significant technical resistance. Yet, even with all those positive points in its favor, China XD's stock still offers significant upside, not only because the average analyst price target is well above where the shares currently trade, but also because the fundamental factors appear to be aligning just right for this Chinese small-cap name.