Market Report – January 9, 2012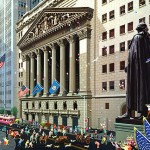 In the Rear View Mirror: It was a decent start to the year for U.S. stocks. Or was it? The S&P 500 closed higher by 1.6% in the first trading week of 2012 while the Dow Jones Industrial Average added 1.2%. By comparison, the Nasdaq looked quite impressive with a 2.7% gain and the tech-laden index was the only one of that trio to close higher on Friday. That all sounds good, but it should be noted the bulk of the gains accrued by the Dow and S&P 500 were accumulated on Tuesday and those two indexes gradually slipped as the week went along.
A couple of things caught our eye during the first trading week of 2012:
First, was the behavior of utilities stocks. As measured by the Utilities Select Sector SPDR (NYSE: XLU), stodgy old utilities were among the best performing sectors in 2011. However, XLU and other utilities ETFs lost 3% or more on the week.
Second, that led someone to proclaim that riskier assets might be coming back into style.
Maybe, maybe not. Looking at the Dow's riskier stocks, Exxon Mobil (NYSE: XOM) and Chevron (NYSE: CVX) finished higher for the week, but like the Dow itself, those stocks enjoyed most of their gains on Tuesday. On the hand, Caterpillar (NYSE: CAT) was up almost 3% for the week.
Third, and perhaps most important, was Friday's lackluster response to the December jobs report. As we previously mentioned, the Dow and S&P 500 closed lower on Friday and that was AFTER the Labor Department said employers added 200,000 new jobs in December and that the unemployment rate fell to 8.5%, the lowest level since February 2009.
The Markets @ 1/6/2012
Index
Close
Weekly
% Change
YTD Change
YTD%
DJIA
12359.92
142.36
1.17%
142.36
1.17%
NASDAQ
2674.22
69.07
2.65%
69.07
2.65%
S&P 500
1277.81
20.21
1.61%
20.21
1.61%
NYSE Comp
7557.68
80.65
1.08%
80.65
1.08%
NYSE Amex
2295.11
16.77
0.74%
16.77
0.74%
RUS 2000
749.71
8.79
-1.19%
8.79
1.19%
VANG INTL
13.11
0.05
-0.38%
0.05
0.38%
USX CHINA
4593.18
63.38
1.40%
63.38
1.40%
EMERG MKTS
6083.87
78.56
1.31%
78.56
1.31%
Market Report
Overall, it was a decent start to the year; but remember this: The performance of the S&P 500 over the first five trading days of a new year has a profound impact on how the index behaves for the rest of the year. So yes, it would be a very bullish sign to see the S&P 500 close higher on Monday, cementing the gains notched in the first four trading days of the year. A couple of positives that we spotted last week: Higher beta stocks, broadly speaking, performed nicely and the iShares Russell 2000 Index Fund (NYSE: IWM) closed higher on the week, perhaps indicating there is some renewed appetite for small-caps.
Green lights a-flashing!!!
Talk about a turn-a-round from the last week of the year when virtually all major indices flashed RED and ended the year in negative territory except the Dow (up 5.53% for 2011), the NYSE Amex (up 3.17% for 2011) and the S&P 500 which finished dead-even at 1257.6.
For the start of 2012…ALL the major indices we follow looked like a sea of green, with the Nasdaq leading the way…flashing a 2.7% gain. This is a great way to come out of the chutes…let's hope it continues for a while longer as noted.
New Emerging Markets Index Introduced
We also have introduced a new index that we believe will add to our overall understanding of how the markets are performing… the stated objective of the Dow Jones Emerging Markets Total Return Index is to provide broad coverage of emerging markets that are open to foreign investment and opened 2012 with a very nice 1.31% gain.
The index currently represents the following countries: Brazil, Chile, China, Czech, Republic Hungary, India, Indonesia, Malaysia, Mexico, Philippines, Poland, Russia, South Africa, South Korea, Taiwan, Thailand and Turkey.
There are nine sectors including consumer goods, consumer services, financials, health care, industrials, oil & gas, technology, communications and utilities.
Gold continues it up and down gyrations. This week it moved up $50.30 to close at $1,616.10. Crude oil followed suit…up $2.73, closing at $101.56.
The dollar made another small upward move of +0.0148 or 0.7864 Euros; the 10-year bond fell off 0.719 to $100.375 and the 30-year bond back up'd 2.453 to $102.141.
The Bottom Line for Stocks
One week does not make a trend, but history dictates the odds are overwhelmingly in favor of the bulls if the S&P 500 trades higher over the first five days of the year and over the month of January. Don't worry. There will be plenty of catalysts.
Even if Europe remains quiet, which it has been, fourth-quarter earnings season starts in earnest next week when Dow component Alcoa (NYSE: AA) reports after the bell on Monday. Alcoa's report won't be that big of a deal, but earnings from J.P. Morgan Chase (NYSE: JPM) on Friday will be.
Maybe we'll finally see the big banks start to pitch in on a legitimate market rally. However, that's a tough bet to make at this point. We still like dividend stocks, but if utilities continue to weaken, focus on staples, oil and tech names that offer decent yields, and of course, master limited partnerships. Additionally, selected small cap names will be the beneficiaries of a positive 2012 market move.