China XD Plastics: Separating Itself from the China Small-Cap Crowd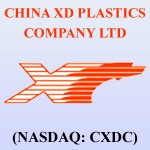 To be sure, 2011 was not a good year for Chinese small-caps.  The Guggenheim China Small-Cap ETF (NYSE: HAO), which is home to 200 Chinese small-caps and is the largest ETF devoted to tracking this volatile asset class, finished the just completed year with a loss of almost 34%.  Frankly, that's good by comparison when evaluating the returns of many beleaguered China-based small-cap companies.
Simply put, investors in Chinese small-caps had to navigate one minefield after another last year as various research firms such as Muddy Waters (we hesitate to call them a real research firm) exposed various levels of chicanery at several small Chinese firms in an effort to bolster their own short positions.
Truth is, while these research firms were divulging news that was certainly to their own benefit, they were occasionally right and that led to massive declines for some Chinese small-caps.  Some even had to be delisted from the U.S. exchanges they traded on.
Opportunity brewing!
Well, from crisis often springs opportunity and that may just be the case in 2012 with the Chinese small-caps that weathered the 2011 storm with aplomb.  A fine example of such a company is China XD Plastics Co. (Nasdaq: CXDC). The company develops, manufactures, and sells modified plastics, primarily for automotive applications and customers include major automakers such as Audi, BMW, Toyota, Buick, Mazda, VW, and Hafei new energy vehicles.
So just how sturdy was China XD's 2011 performance?
Take note… the shares were down just 1.66%. Now, I know that's nothing to write home about, but remember, the most useful comparison is to compare China XD against other Chinese small-caps and by that metric, China XD was a stellar performer last year.
More importantly, what investors can take away from the fact that China XD held up so well in 2011 is that when market sentiment turns in favor of Chinese small-caps, CXDC is likely to be a leader on the way up.
After all, all those negative headlines about Chinese small-caps didn't inflict much damage on China XD and that's something to take note of.  Yes, it should also be noted that China XD underwent a reverse merger and that may be what has kept some investors at bay, but not Morgan Stanley (NYSE: MS). The prestigious Wall Street bank made a $100 million investment in China XD last year.
Finishing 2011 ON FIRE
Beyond that, it should be noted that China XD shares finished 2011 red hot. After bottoming around $3 in August, shares of China XD finished 2011 at $5.34, having gained 18.4% in the fourth quarter and almost 11% in December alone.
Even with those lofty numbers, there's no getting around the fact that China XD is "cheap" using traditional valuation metrics. The stock trades for less than 3.5 times forward earnings with a PEG ratio of just 0.27%. Not to mention, China XD trades at just 1x book value and is considered undervalued by some on a levered free cash flow basis.
CXDC could super-charge your small cap portfolio in 2012
It's probably too bold of an assertion to make right now that Chinese small-caps as a group, will totally bounce back in 2012. However, the numbers indicate saying the same for China XD Plastics might just be making a prescient observation.  Is CXDC in your small cap portfolio or at least on your "must watch" list?  It should be.
Posted by Micro Trader